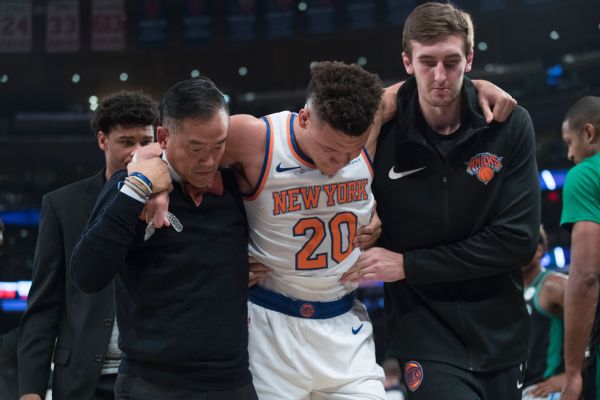 Just when it looked Kevin Knox was finding his more rhythm on the offensive end, he suffered a setback.
The New York Knicks rookie injured his ankle during the team's Saturday night loss to the Boston Celtics. Though an MRI came back negative, he's expected to miss at least one week. From ESPN.com's Ian Begley:
New York Knicks rookie Kevin Knox will be sidelined for at least one week due to a left ankle sprain.

An MRI on Sunday confirmed that Knox suffered a sprained ankle in the first quarter of the Knicks' loss to the Boston Celtics on Saturday, the team said.

Knox will not travel with the Knicks on their two-game road trip this week and will be re-evaluated in seven days. So the rookie will miss at least three games because of the injury.
Knox has been on a roller coaster since his summer-league breakout. He struggled during the preseason, to the point where he lost his projected spot in the starting five, and he opened the year going 4-of-16 from the floor against the Atlanta Hawks. It looked like he began to find more of a groove in New York's loss to the Brooklyn Nets; he shot 7-of-14 from the field and made summer better, albeit not great, defensive reads.
A one week absence isn't the end of the world, but we know it's going to be longer than that. Knox won't be re-evaluated for seven days, and head coach David Fizdale will no doubt want him to practice before testing his ankle in real-game settings. Ankles can be fickle too, so this will be something to watch for even after Knox returns to the rotation.