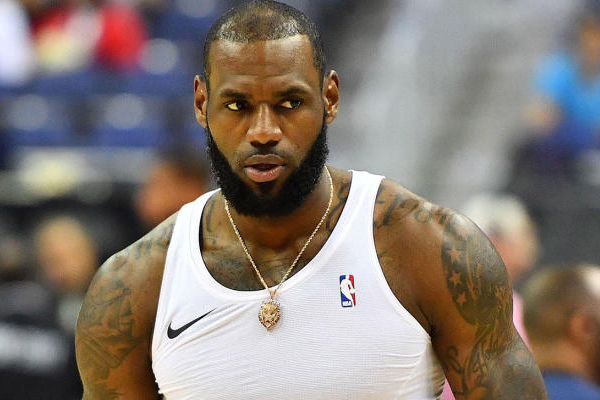 The debate needs to end. The negativity needs to end.
In 2003, I was able to witness LeBron James make his professional debut. The gym at the University of Massachusetts-Boston was packed. The last game of the night at the Reebok Summer League was between the Cleveland Cavaliers and the Boston Celtics. The basketball was bad, as most summer league games are, but that's not why people were there. They came to see the kid Sports Illustrated had dubbed The King. Honestly, after watching the game and seeing him play in that summer league no one thought he would be able to live up to the hype. Please note that was not a discredit to his talent or potential, more so a knock on the insurmountable expectations that were placed on the shoulders of an 18 year old. Wrong.
Fast-forward 5 months and the NBA regular season was under way. I was the Video Coordinator for the Philadelphia 76ers and we were on the road in Cleveland. This was our first look as a staff at Lebron James, in person, since July and the Summer League games. Our reaction was simple. Wait. What. This kid had not only quickly assimilated himself to the pro game, but it became clear during our game that night in November that he was capable and willing to do it all. 47 minutes, 22 points, 5 rebounds, 8 assists, 2 blocks, and 1 steal. James was going to be a problem for opponents across the NBA. The scouting report of his rookie year will show you how far he has come since then.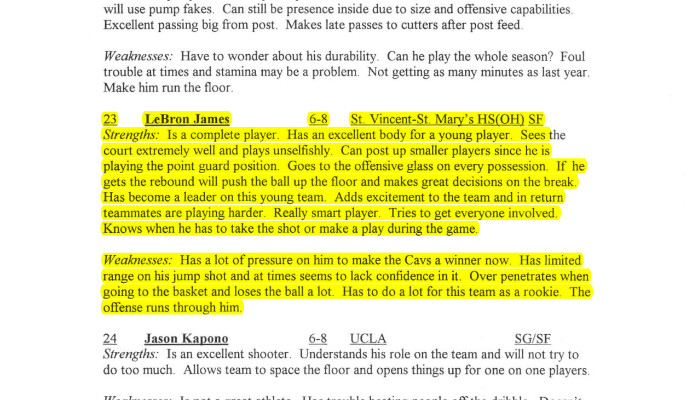 The 15 years since then have been pretty good to the kid who "over penetrates" and has "limited range". He has developed a net worth of $400 million. He created the LeBron James Family Foundation. A foundation that has spent over $41 million to send kids to college. The accomplishments in the past 2 years are extensive and too long to list here. He is a businessman and a business, man.
The King's accomplishments on the court are even more impressive (we will take a look at them later). However, in today's world of social media, instant access, media saturation, and the fact that haters have a platform, LeBron James is one of the most criticized athletes of all time. Why? Let's take a look.
"HE'S NOT CLUTCH"
This is a common criticism of those who grew up watching players like Michael Jordan and Kobe Bryant seek to take the shot in "clutch" moments. I often hear critics say he doesn't have a killer instinct. Yes, when compared to Jordan and Bryant, James does not get a shot for himself at all costs in critical moments. What he does do is get the best shot. The word clutch can be a debatable topic but here are some stats that are not debatable.
34 points, 11 rebounds, 7 assists, 2 steals, and 1 block.
This is what LeBron averages in playoff elimination games. Game 7 versus Boston was his 23rd such elimination game. Compare those stats to his career regular season stats which are 27 points and 7 rebounds. He also has 5 career playoff buzzer beaters. I am not here to compare James to other players, that debate is idiotic to me. If you are curious you can do the research yourself.
He has succeeded with the world watching him since high school. Clutch.
"HE HAS ONLY WON 3 RINGS"
I am not sure this argument against James makes any sense. It certainly was not said by Charles Barkley, John Stockton, Karl Malone, Tracy McGRady, Vince Carter, Elgin Baylor, Dominique Wilkins, Patrick Ewing, Reggie Miller, George Gervin, Allen Iverson … I could go on but you get the point.
The fact of the matter is there are 18 year old's who have seen LeBron James in every NBA Finals since they were 10. Think about that. We are witnessing it now with Jayson Tatum. The last time that James was not in an NBA Final, Tatum who is 20, was 12 years old. The haters out there will point at The Finals that he lost. The narrative of "lost Finals" is great for over-saturated debate television shows, talk radio, or drunk conversations. I would encourage all of us to take a step back and simply enjoy the sports history that you are watching. 9 NBA Finals. 8 consecutive NBA Finals.
"HE FLOPS"
This one is simple for me. The NBA game is officiated too inconsistently (poorly). Players do not get foul calls unless they exaggerate their movements and scream. Take a charge call for example. If an offensive player backs down and rams into a defender, with that defender "manning-up" and holding is ground, they will never call a charge. No matter if the offensive player is charging his body into the defender or not. On the contrary, if the defender flops and falls over he will get the call a majority of the time. LeBron James exaggerates calls. NBA players as a whole exaggerate calls. Do not focus your hate onto one man when an entire league of players do it. See Marcus Smart.
"HE IS ARROGANT" 
Please see his foundation link above and please note that he has not had major run ins with law enforcement, nor has he made "mistakes" that numerous pro athletes make. He says the right things with bright lights and the world watching every time. James often is baited by the media and players, yet he keeps is composure. See Lance Stevenson versus LeBron.  Through all of this he remains the same.
Haters will cite his on court demeanor. I will encourage you to watch a sporting event and look at the pro athletes on the field, many of these athletes you will not even know. Yet, they will celebrate. They will taunt opponents. They will carry themselves with an arrogance that is simply too large for their professional accomplishments. I will ask those who hate on LeBron for his arrogance – do you hate on all athletes?
There is a group of people out there who still cite 'The Decision'. To that group I would say the following; do not forget he donated money to the Boys and Girls Club from the broadcast. I assume the next response is, "well the press conference was too much". Yes, it was. It also was a PR move by the Miami Heat. Could this situation have been handled differently, sure. It may have been too much. I will also ask what in Miami is not too much.
The reality of the current situation is that James will most likely go on to lose his 6th NBA Finals in a few weeks (barring another King James miracle). If that does happen, it is ok. His accomplishments as a 'Kid From Akron' are remarkable. The man is a role model.
At age 33, we may not get to see LeBron James perform at a high level much longer. I encourage everyone to sit back and enjoy.  This is a player that you will tell your children about. The looks and reactions I get when my 4 year old son looks at the TV and says; "there is LeBron James – he's my daddy's favorite player", are sad. Grown men angry because I like him. Grown men angry because my 4 year old son likes him. Yes son, he is my favorite player.
Stop the hate. We are all Witnesses.
Take a look at some initial reactions after the game.
We can enjoy one without tearing down one. I love what he's doing. Don't debate what can't be definitively won by anyone #enjoymy5 #enjoymj6 #enjoylbjquest

— Kobe Bryant (@kobebryant) May 28, 2018
That's a bad man. Congrts bro on your 8th straight FINALS! DAMN! @KingJames https://t.co/SqFtD0qfVE

— DWade (@DwyaneWade) May 28, 2018
What LeBron has done over the course of his career with the expectations that have been placed on him from such a young age is truly unbelievable.

— JJ Watt (@JJWatt) May 28, 2018