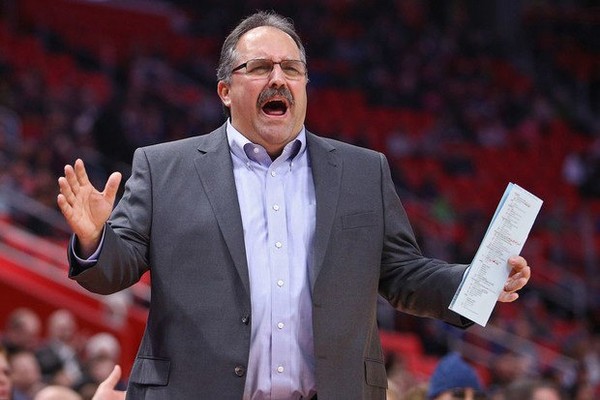 Stan Van Gundy's coach-president role with the Detroit Pistons is safe. Or, actually, maybe he'll be back next year only as the coach. Or perhaps he won't be back at all.
So much for clarity.
Pistons owner Tom Gores didn't provide any concrete inklings of his own while talking to reporters during halftime of his team's Monday night loss to the Toronto Raptors. While he was far from dismissive of Van Gundy, he didn't exactly offer a ringing endorsement for his future either, per The Detroit News' Bob Wojnowski:
"I'm not afraid of change," Gores said at halftime in his courtside suite. "Stan's a very committed guy, he's dedicated, this is not a situation where you make a change because somebody's not dedicated. But if we have to change, Stan's not afraid of change either. We will. But I would never make a change without talking to him."
 There's also this, from The Detroit News' Rod Beard:
#Pistons Gores on whether he's leaning either way on SVG's future:
"I'm really not."

— Rod Beard (@detnewsRodBeard) April 10, 2018
And on top of all that still, there's this:
I don't get the sense that SVG wants to be either the president or coach — the security is in having both roles. I don't know that there's anyone to bring in as a president over him, either. I just don't buy the Arn Tellem rumors. https://t.co/Q2bOVf5LyH

— Rod Beard (@detnewsRodBeard) April 10, 2018
Van Gundy is no doubt on thin ice in Detroit. The Pistons have made only one playoff appearance since his arrival, and it ended in a first-round sweep to LeBron James' Cleveland Cavaliers. He's also responsible for assembling one of the least financially flexible rosters in the league, a situation he only exacerbated with the Blake Griffin acquisition.
That trade, though, seems to suggest Van Gundy will be back. You don't give someone you're planning to can or demote the power to add long-term money to this degree. And while the trade may have been aimed at getting the Pistons back to the playoffs now, it was also a big-picture move. Reggie Jackson missed a good portion of the year, and the team didn't get a training camp to flesh out the dynamic between Griffin and Andre Drummond.
Perhaps Gores tries getting Van Gundy to split front-office duties with someone. Maybe he asks him to relinquish them altogether. Whatever happens this summer, it doesn't seem like it'll include Van Gundy leaving. Not yet. That's a topic for the middle of next year, at the earliest, when we have a better grasp of what this team is.