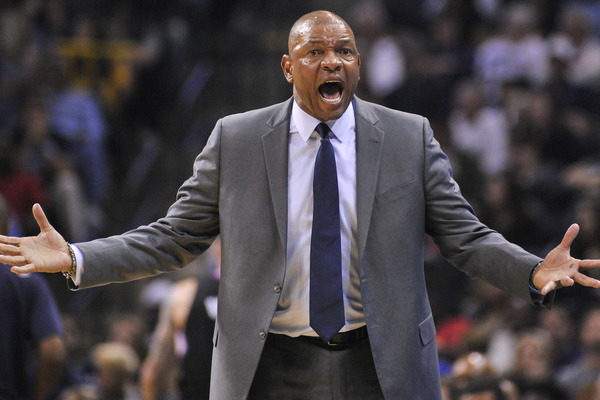 Doc Rivers-to-the-New York Knicks conspiracy theorists and enthusiasts rejoice: The Los Angeles Clippers are not trying to extend their head honcho.
Yet.
ESPN.com's Kevin Arnovitz penned an interesting profile on Rivers and the Clippers just after they were eliminated from playoff contention for the first time since 2012. Within it, he reports on Doc's future in Los Angeles—or, perhaps, lack thereof:
Rivers has one year remaining on his contract with the Clippers. It's rare in today's NBA for a head coach, particularly one of Rivers' stature, to enter the final season of his deal without some clarity about the future. The thinking goes that such uncertainty signals to players and staff a lack of faith on the organization's part. Sources say that there's been no meaningful outreach from the Clippers to Rivers' camp about a potential extension. When asked whether his desire is to remain with the Clippers for the foreseeable future, Rivers conveys a hint of ambivalence.
Gauging the importance of this non-development is difficult.
Rivers isn't known as a coach who's interested in spearheading a rebuild. He left the Boston Celtics—under amicable circumstances, mind you—as they were beginning their reset. The Clippers could be headed down a similar path. No team in the league endured more turnover between the end of last season and now, according to Basketball-Reference. And even after extending Lou Williams, the time to hit reset after missing the playoffs would be now.
DeAndre Jordan and Avery Bradley are both free agents. Patrick Beverley (non-guaranteed), Austin Rivers (player option), Wesley Johnson (player option) and Tobias Harris will all enter the final year of their deals this summer. Williams will be extremely movable after his trade restriction lifts in August. The Clippers have a path to starting over.
At the same time, given all the injuries and turnover from which they suffered, their proximity to the playoff race at all remains impressive. This was, in fact, one of Rivers' best coaching jobs ever. He might see value in coaching a megastar-less upstart. Or he may want to guide a patented winner. Or he may not care either way, but still be turned off by the Clippers relieving him of presidential duties last summer.
No matter how you spin it, Rivers' future with the Clippers is up in the air. Complicated still, it's not entirely clear whether this offseason will do anything to change that one way or the other.