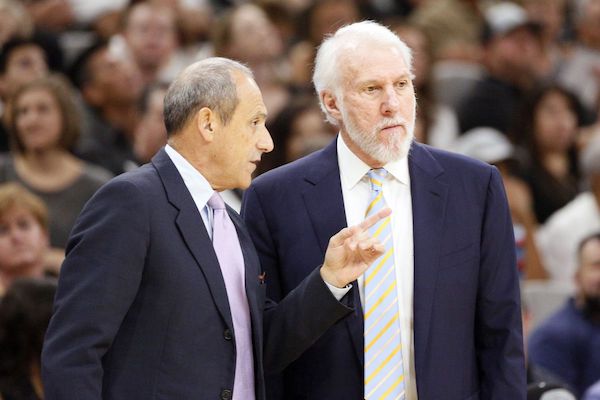 The San Antonio Spurs announced on Wednesday that Gregg Popovich's wife, Erin, passed away. The two were married for four decades, and she had apparently been sick for quite a while.
Spurs general manager R.C. Buford released the following statement in the aftermath of Erin's passing:
Spurs GM RC Buford on the passing of Erin Popovich: "We mourn the loss of Erin. She was a strong, wonderful, kind, intelligent woman who provided love, support and humor to all of us." https://t.co/KabXQS0KuN

— Adrian Wojnarowski (@wojespn) April 19, 2018
LeBron James also sent his prayers and well-wishes to Coach Pop and his family:
.@KingJames sends his thoughts and prayers to the family of Gregg Popovich, sets record straight on reporter's question. pic.twitter.com/VCsFuEtFVU

— UNINTERRUPTED (@uninterrupted) April 19, 2018
It's really hard to think about basketball at a time like this. Something so real reminds us all that the NBA's biggest names are people with real problems. They're no different, in that sense, from you or I simply because they live in the spotlight and get paid a ton of money. Moving on after this will be tough. Imagine having to resume work immediately after the passing of someone so close to you.
But the playoffs must go on. And for now, they'll go on without Popovich.
Spurs assistant Ettore Messina is set to take the reins of the team, per Fox Sports Southwest's Cayleigh Griffin:
Ettore Messina will serve as head coach for tonight's Spurs-Warriors game, per Spurs PR.

— Cayleigh Griffin (@cayleighgriffin) April 19, 2018
Messina has been with the Spurs since the 2014-15 season, so there should be a sense of familiarity there. He's also routinely mentioned for just about every head coach vacancy—he recently received permission from San Antonio to interview for the Charlotte Hornets position—so he's clearly capable. And he'll have a staff of top-notch assistant-coach peers at his disposal, with Becky Hammon, James Borrego and Ime Udoka.
Whether Popovich's absence galvanizes the Spurs, driving them to scrap and claw with the Golden State Warriors in his honor, is a matter we won't debate here. Maybe that, coupled with playing at home, allows them to find something within themselves—a way to beat the superpower they now trail 2-0. But, truthfully, that doesn't matter. Not really.
All that matters is we send good vibes Pop's way.