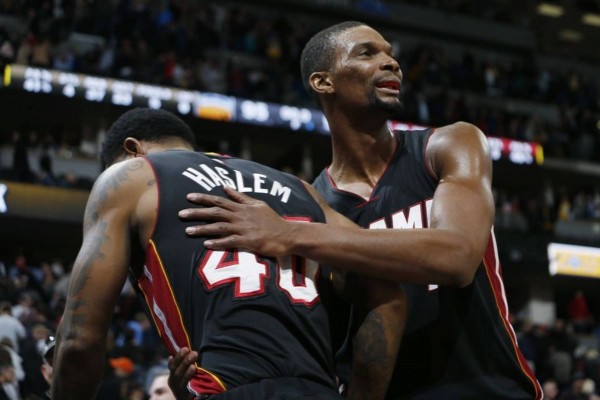 Chris Bosh hasn't played in an NBA game for more than two years.
But he still expects to play in the NBA again.
During an appearance on ESPN's First Take, the 13-year veteran and 11-time All-Star (nine appearances), left nothing to chance when responding to Stephen A. Smith's question about him making a comeback (h/t RealGM):
"I've been in the gym. I can still play basketball. No, I'm not done yet," said Bosh.

"I'm trying to comeback. Man, I see all these guys shooting three's and not playing defense, I've got to get some of it."
Here's the video of his answer, for those who wish to hear this from Bosh's own mouth:
.@chrisbosh says he's trying to come back to the NBA. pic.twitter.com/2yUmuaonCw

— First Take (@FirstTake) February 15, 2018
Bosh, now 33, was forced out of the league due to recurring blood clot issues. Though he'd initially hoped to be cleared sometime last season, these problems proved to be serious enough for the Miami Heat to wipe his contract from the ledger. And while Bosh has creeped up in headlines every now and again since then, his comeback attempts have sort of taken a back seat; plenty of people don't expect him to play again.
If, however, Bosh gets cleared to return, he could theoretically help a few teams. He isn't the quintessential big man given where the NBA has headed, mostly because he's never been the switchiest of defenders. But, during his peak, he could put the ball on the floor, hit spot-up threes and make sound rotations around the rim. He also flashed the ability to survive in space on occasion.
Put that exact version of Bosh into the NBA, and he'll help someone. There will still be a place for him—perhaps a prominent one. But two-plus years is a long time to spend out of the fold. Who knows how long it would take for him to regain his previous form. And with his 34th birthday on the horizon, the odds of him reaching even fringe All-Star status are beyond slim.
Still, if he's physically able to return without risking his long-term health, everyone should be for a Bosh comeback. The NBA has missed him and his play and, perhaps most of all, his photobombs.