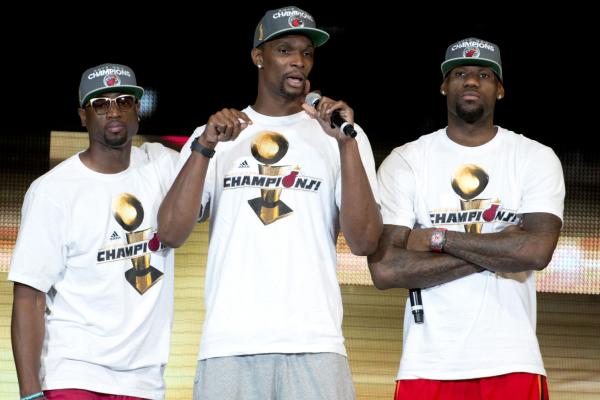 Who says throwback posts are only for Thursdays?
During a recent appearance on The Bill Simmons podcast, Chris Bosh talked about why himself, LeBron James and Dwyane Wade chose to join forces with the Miami Heat rather than the New York Knicks. Here are his comments, via The Athletic's Mike Vorkunov:
Thought this was interesting from Chris Bosh on why he, LeBron and Wade didn't want to go to New York together in 2010 from his @ringer podcast with Bill Simmons. https://t.co/Mm7SCri1ko pic.twitter.com/i8xoCTB1u4

— Mike Vorkunov (@MikeVorkunov) March 19, 2018
This is fantastic. I'm also curious as to how true it is. Like, did they really factor in ticket requests and demands from family members, friends and acquaintances when making their decision? I sure as hell hope they did, because that would be awesome.
Other things obviously had to be at play. The Knicks, for one, didn't have a clear path toward three near-max slots at the time. New York, unlike Miami, also has state income tax, which would have made accepting (slight) pay cuts, as they did, a little more difficult to stomach. Perhaps most importantly, the Knicks didn't have the track record of Pat Riley's Heat. He could throw rings at LeBron and Bosh; the Knicks had nothing of the sort.
Still, Bosh's thoughts on The Bill Simmons pod are something to keep in mind as LeBron, Wade, Chris Paul and perhaps even Carmelo Anthony (early termination option) enter free agency all over again. Everyone wonders whether they'll try playing together, and where they might try to join up if they do. Bosh's comments make it seem like we can rule out some of the most popular destinations—Chicago, Los Angeles and New York specifically.
That should come as good news to the Houston Rockets, who seem best positioned to reel in James. It may also come as a faint hope to the Oklahoma City Thunder, should LeBron really, really want to play with Melo. It hurts the Lakers most, of course. They're the ones expected to sell James on choosing his superstar partner should he sign with them. But if New York's outside noise acted as a deterrent for him in 2010, you better believe it'll factor into his view of Los Angeles in 2018.