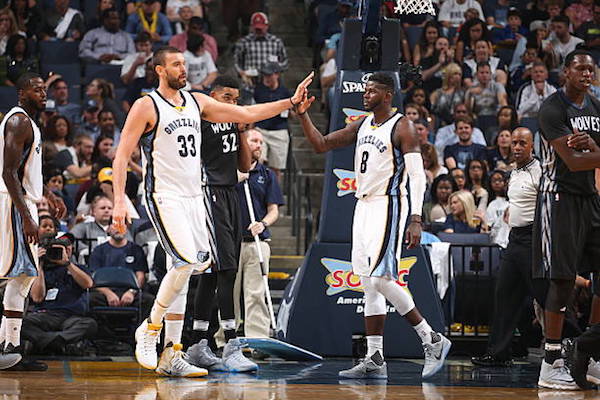 The Memphis Grizzlies are willingly putting themselves in the NBA's rumor mill!
But not because they're holding a fire sale.
As Bleacher Report's Howard Beck noted, the Grizzlies remain unwilling to move Marc Gasol, even though they should be pouncing at the chance to sell high on their soon-to-be 33-year-old big man. Memphis is, however, actively shopping both James Ennis and Ben McLemore, according to Basketball Insiders' Michael Scotto:
The Memphis Grizzlies are gauging the value of guard Ben McLemore on the trade market, league sources told Basketball Insiders.

The former seventh overall pick signed a two-year, $10.7 million deal with Memphis this past summer. After appearing in 21 consecutive games, including five starts, McLemore has not played in six of the past eight games. . . .

In addition, Memphis is open to dealing swingman James Ennis for at least one second-round pick, league sources told Basketball Insiders.

Ennis is in the final year of his contract and earns $3 million this season.
Though the Grizzlies won't get much in return for either two players, Ennis is by far the most valuable of the duo. He's much more switchy than McLemore, at 6'7″, and has shown he can man three different positions, from shooting guard up to power forward.
Ennis is also an understated offensive weapon. His 34.8 percent clip from downtown isn't anything to get excited about in a bubble, but it's a respectable mark for someone playing within the Grizzlies' clunky offense. He canned more than 37 percent of his three-pointers last year and is knocking them down at a tidy 36.8 percent clip for his career. Equally important, he's shooting nearly 60 percent on two-pointers this year, efficiency anchored by a 76.6 percent clip around the rim, according to Basketball-Reference. He has a higher true shooting percentage than Klay Thompson.
Which isn't to say Ennis has become a star in the rough. But he'd be a nice risk-free piece for a contender. The Grizzlies might even be able to get a high second-round pick to super-duper-low first-round pick for his services, since the team that acquires him will enjoy ownership of his early Bird rights when he enters free agency this summer.