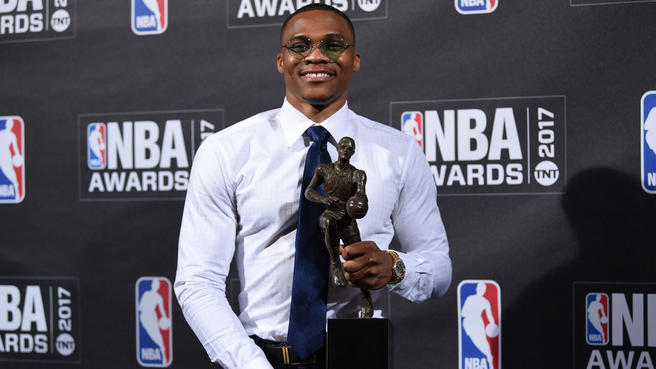 The 2017-18 season is officially two months away and that means it is time for them to release their initial MVP odds.
With all of the high-profile player movement (with still more to come potentially) this summer, who is your favorite to win the MVP this season?
Will Russell Westbrook dominate again and follow up his historic season with another MVP campaign? Will James Harden get the boost he needs from Chris Paul to win his first MVP award? Will Paul win his first playing next to Harden? Will Durant ride his wave of momentum as defending champion and NBA Finals MVP to his second regular season MVP award? Does LeBron have a 5th MVP in him?
Here are the initial odds courtesy of online betting website Bovada:
Russell Westbrook (OKC) 7/2
Kevin Durant (GS) 9/2
Kawhi Leonard (SAN) 13/2
LeBron James (CLE) 15/2
James Harden (HOU) 8/1
Giannis Antetokounmpo (MIL) 17/2
Steph Curry (GS) 11/1
Anthony Davis (NOP) 16/1
Paul George (OKC) 25/1
Chris Paul (HOU) 25/1
Isaiah Thomas (BOS) 25/1
DeMarcus Cousins (NOP) 33/1
Karl-Anthony Towns (MIN) 33/1
John Wall (WAS) 33/1
Blake Griffin (LAC) 40/1
Nikola Jokic (DEN) 40/1
DeMar DeRozan (TOR) 50/1
Joel Embiid (PHI) 50/1
Kyrie Irving (CLE) 50/1
Damian Lillard (POR) 50/1
Draymond Green (GS) 60/1
Ben Simmons (PHI) 66/1
Gordon Hayward (BOS) 70/1
Carmelo Anthony (NYK) 75/1
Jimmy Butler (MIN) 75/1
Andrew Wiggins (MIN) 75/1
Kevin Love (CLE) 100/1
Kyle Lowry (TOR) 100/1
Kristaps Porzingis (NYK) 100/1
Westbrook deserves to be the favorite, but as you can see it is a wide open field with no real huge favorites outside of Westbrook.
While injuries and a number of unforeseen circumstances will ultimately shape this race throughout the season, it is fun to project at this point to see who will win what seems to be the most prestigious individual award in sports.
In my opinion, Durant seems to be the safest bet, with Leonard as a close second. If I were a betting man (which full disclosure I am), there are three people I would throw a few shekels on: Giannis Antetokounmpo, Chris Paul and John Wall.
The Greek Freak put up MVP caliber stats last season for an eastern conference playoff team and if he takes another leap this season, say 26-8-8 and the Bucks can win 50 games it would be easy to make a compelling case for him.
John Wall quietly puts up MVP caliber stats as well, he averaged 23.1 points and 10.7 assists last season, and if no one has a ridiculous season like Westbrook or Harden did last year and he replicates that or improves upon it with a team that gets the No. 1 seed in the east let's say, that could be enough for an MVP.
Chris Paul is such a domineering force and leader. If Harden learns to play around Paul and make life even easier for himself and if Paul has a highly efficient 20 and 11 season for a 55 to 60 win team in Houston, voters could absolutely think he deserves to be rewarded for his season and his hall of fame caliber career.
Here's to another great season and another awesome MVP race.