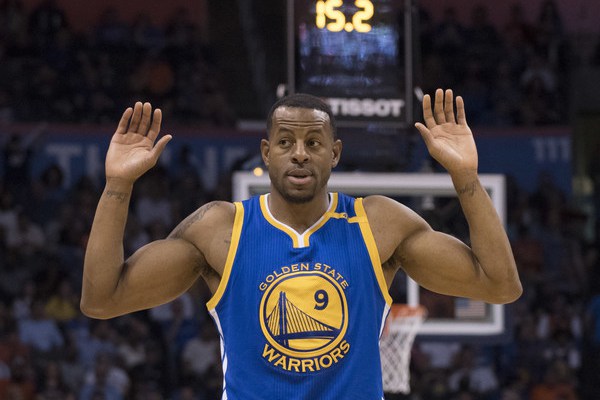 The Golden State Warriors' offseason will not be without its drama.
No, Kevin Durant and Stephen Curry aren't going anywhere. Durant, in fact, will probably end up taking a slight pay cut, on a non-Bird max, so that the Warriors can retain the Bird rights to free agents Shaun Livingston and Andre Iguodala. But that doesn't mean both of them will be back. Livingston has always been a flight risk, since his earning potential in the prime of his career was curtailed due to injury, and now, according to The Vertical's Shams Charania, Iguodala will consider bolting as well:
Iguodala plans to seriously consider other teams in July, league sources told The Vertical. Prospective teams would need to show in meetings a vision to move toward contention to pry Iguodala from Golden State, league sources said. In four seasons with the Warriors, Iguodala has served as a playmaker and primary wing defender and established himself as a high-character leader.

Many teams are expected to pursue discussions with Iguodala, including the Warriors, Utah Jazz, Los Angeles Clippers, Chicago Bulls, Minnesota Timberwolves and Atlanta Hawks, league sources said. Among teams around the league, there's a belief that the value this summer for a two-way wing such as Iguodala could reach $20 million annually.
Of every team listed, the Timberwolves are the biggest threat. They'll have more cap space than anyone, and head coach and president Tom Thibodeau will be in the market for a defensive-minded wing who both ups the team's ceiling on the less-glamorous end and helps keep the kiddies in line.
Throw Iggy a three-year, $58 million offer, and he has to at least consider taking it. The Warriors could technically match it, but the luxury-tax implications would be through the roof. And to be sure, this isn't necessarily a good deal for the Timberwolves, but a three-year pact isn't long. They'll be able to see the light at the end of the tunnel after Year 1, so don't put it past them to do something drastic.
Returning to the Warriors is still the most likely outcome to Iguodala's free agency. And yet, that very foray onto the open market just got a helluva lot more interesting.