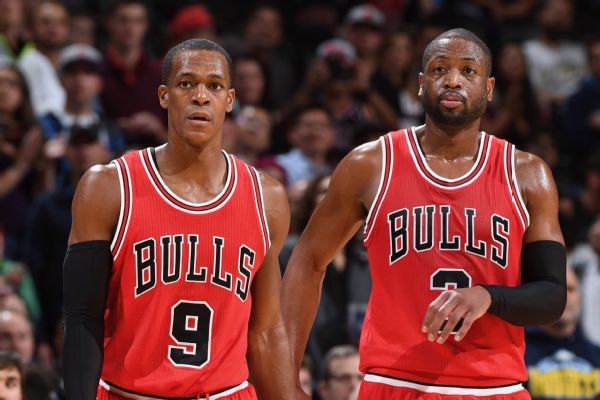 So much for the Chicago Bulls blowing it up.
Despite a roster with overlapping and non-complementary talent, the Bulls don't seem itching to blow everything up. To the contrary, vice president John Paxson expects the band to basically be back together next season, per the Chicago Tribune's K.C. Johnson:
The short term centers mainly on "The 3 Alphas," Rajon Rondo's colorful nickname for himself, Dwyane Wade and Jimmy Butler when Rondo signed a two-year deal with a team option last summer. Paxson said "there's a very good chance" Rondo's $13.4 million option will be picked up, while management has to prepare for Wade using his player option of $23.8 million for next season.
To the Bulls' credit, Dwyane Wade's fate is beyond their control. Short of trading Jimmy Butler, there's not much they can do to dissuade Wade from picking up his $23.8 million salary for next season.
Speaking of Butler, if the Bulls seem this committed to Rajon Rondo and, to a lesser extent, Wade, they must also be devoted to Butler.
Or maybe not:
Butler's situation is more fluid. Even while praising him, Paxson talked about how Butler is a "different player (who) has the ball in his hands a lot" when asked about coach Fred Hoiberg's preferred pace and space offensive system.

And management must factor in that if Butler makes an All-NBA team this offseason, he would be in line in 2018 for a designated player exception calling for a five-year, $200-million-plus extension.

"Jimmy is far and away our best player. He's an all-NBA type guy," Paxson said. "He has made himself into just a quality player. His work ethic, as most people know, is one of the best in the league. We talked about last year; look our job, you always have to keep things open."
Alriiiiiiiiighty then.
Look, the Bulls are a smart not to rule out rebuilding just because Wade is probably coming back. And if they want Rondo around a developing core because he's good with the young guys, fine.
But it's beyond weird to be more complimentary of Rondo, someone who wasn't even in the rotation at one point, than Butler. No player is untouchable. We get it. That's a thing across NBA front offices. But most of them don't talk about their best players while spewing caveats and conditions.
Among other things learned from Paxson's and general manager Gar Forman's presser: Head coach Fred Hoiberg will be back, they want to keep Nikola Mirotic, and the team is going to embrace, to some extent, a youth movement.
It sure sounds like they're ready to hit reset. Or maybe not. We don't know.
With this Bulls regime, and the makeup of this particular nucleus, we never do.