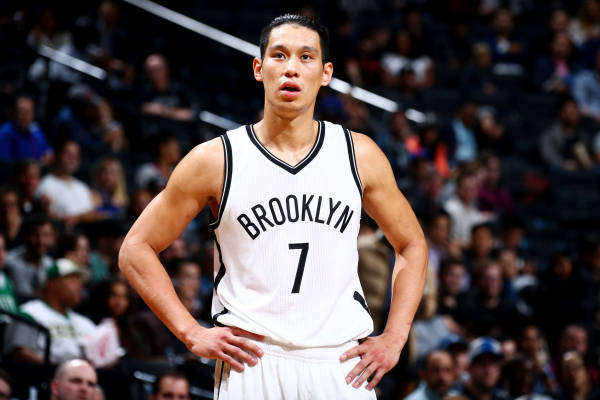 Jeremy Lin is injured again, only this time, the setback isn't considered serious.
From the New York Post's Brian Lewis:
When Jeremy Lin landed awkwardly on his ankle during Sunday's game against the Mavericks, he couldn't help but think the worst.

After all, that's the way his nightmarish, injury-riddled season has gone since it began, with Lin playing in just 25 of the Nets' 69 games after signing a three-year, $36 million deal in the summer.

"It's the story of my season," said Lin, who is averaging 13.7 points and 4.9 assists when he does play. "Every time we're about to hit our stride, get into a rhythm or we start to figure things out, something's happened."

But this time, the wait likely won't be as long. One day after the injury, both Lin and Nets coach Kenny Atkinson called his latest ailment a "day-to-day' situation" and believed he'd be back in the starting lineup shortly. In fact, Lin initially thought he would be able to reenter Sunday's game after loosening up his ankle on a stationary bike.
Lin previously suffered two hamstring injuries that have caused him to miss most of this season, which has contributed to the Brooklyn Nets posting the NBA's worst record by a mile. The point guard wouldn't have made a world of difference, but he helps provide offensive structure in Kenny Atkinson's motion offense, and he's more experienced in guarding pick-and-rolls than most of the Nets' other guards.
Brooklyn's net rating with Lin is minus-4.4, which isn't good. But it drops to minus-7.9 without him, a huge difference. Inconsistent personnel, though, has been the story of the Nets' season.
Only one of their five-man lineups has appeared in more than 15 games together, according to NBA.com. Just two have logged more than 100 minutes of total playing time. Revolving personnel is an inherent side-effect of the Nets' rebuilding situation, but this season has been an extreme, even by their circumstances. Lin, at the very least, was supposed to join Brook Lopez as a constant, as a steadying force that balanced even the most turbulent times and stretches.
Maybe the Nets will get that from Lin next year. For now, they'll settle for the small victories—like knowing he's (probably) going to play again this season.