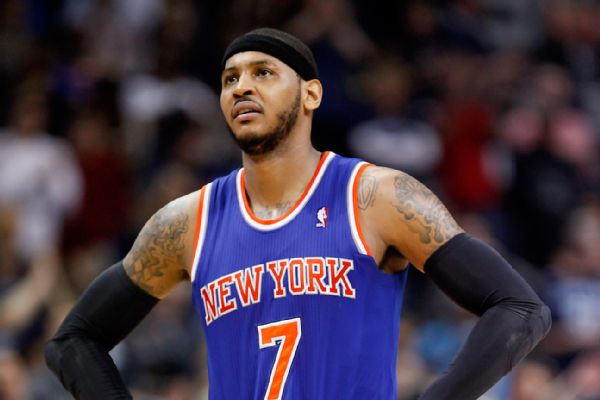 Carmelo Anthony has not played his final game as a member of the New York Knicks.
Then again, DeMarcus Cousins is now with the New Orleans Pelicans, so who really knows what's going to happen anymore.
Though Anthony's named has ambled in and out of the rumor mill over the last month or so, largely because of team president Phil Jackson, neither the Knicks nor their star are preparing for a move before the Feb. 23 trade deadline. From The Vertical's Adrian Wojnarowski (h/t Empire Writes Back):
"As of right now, Carmelo Anthony's intention, sources tell me, is to remain in New York," Adrian Wojnarowski of The Vertical said Saturday, later adding: "The Knicks have not brought anything to his group that would inspire them to really want to waive this no-trade clause."

"Most of the teams who had had interest in him are looking in other directions right now, and expect Melo to remain in New York, at least for the rest of the season," Wojnarowski added.
No surprises here. Anthony's no-trade clause always made it more likely that he would finish the season in New York. Most only think he'll be open to waiving it for a chance to play with the Cleveland Cavaliers or Los Angeles Clippers, or maybe the Boston the Celtics, and that severely limits the scope of teams New York can contact.
If the Knicks and Anthony do decide to part ways before the end of his contract (early termination option after next season), it'll probably happen over the offseason, when potentially interested teams have more flexibility to absorb Melo's near-max salary. Even then, though, there are no guarantees. Anthony seems far more concerned with controlling the narrative (i.e. where he plays) than he does with chasing  a ring for a team that, even with him, probably won't give the Golden State Warriors a run for their money.