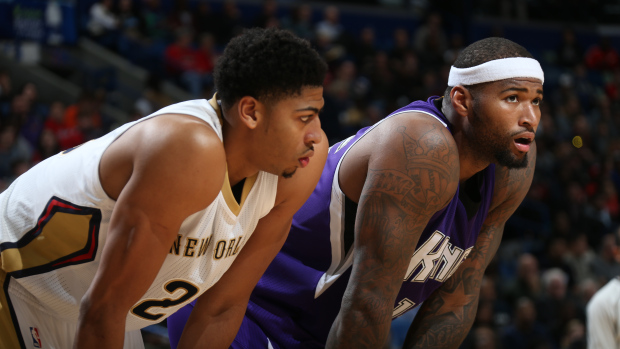 Anthony Davis had a good Sunday night.
Okay, fine: He had one of the best Sunday nights in the history of Sunday nights.
First, he dropped 52 points during the Western Conference's 192-182 All-Star Game victory over the Eastern Conference, breaking Wilt Chamberlain's previous record of 42 points. Then, in front of the hometown New Orleans Pelicans crowd, he was named All-Star MVP.
And after that, he found out Demarcus Cousins would be calling New Orleans home.
The Sacramento Kings agreed to trade Cousins and Omri Casspi to the Pelicans for Buddy Hield, Tyreke Evans, Langston Galloway and a 2017 first-round pick (top-three protected) and second-round pick (via Philadelphia 76ers), according to The Vertical's Adrian Wojnarowski.
Davis, naturally, was all smiles, per ESPN.com's Jeff Goodman:
Just spoke to Anthony Davis. HUGE smile when talking about the trade that is expected to bring DeMarcus Cousins to New Orleans. "This is an unbelievable weekend. All-Star MVP and now getting Boogie. It doesn't get better than this." AD said he hasn't heard anything official from management or talked to Cousins yet.
Should we really be expecting anything less at this point? Davis has long needed a superstar running mate, and now he has one. And the Pelicans made it happen without giving up Jrue Holiday.
Sure, there's a chance the Pelicans still don't make the playoffs. They trail the No. 8 seed Denver Nuggets by 2.5 games in the standings, and there's no guarantee they put it together soon enough to erase that gap. Even if they do, the Golden State Warriors await in the first round.
Still, moving forward, only two teams house two top-10 players on their roster: The Pelicans are one of them; the Warriors are the other. So Davis has every reason in the world to smile.