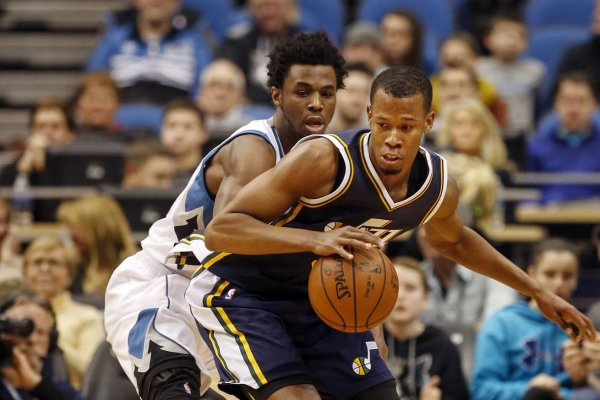 The Utah Jazz just can't stay healthy.
Now that George Hill is back in the everyday lineup, it's Rodney Hood's turn to miss some time. He left the Jazz's Saturday night victory over the Orlando Magic with what the team called a hyperextended right knee, but it looked much worse:
? out to Utah Jazz SG Rodney Hood. pic.twitter.com/mteLpR1Njy

— ACL Recovery Club (@ACLrecoveryCLUB) January 15, 2017
Hood underwent an MRI on Sunday, though, and according to the Salt Lake Tribune's Tony Jones, the prognosis isn't bad:
Tribune sources: Rodney Hood underwent an MRI this morning and has been diagnosed with a bone bruise. No other structural damage

— Tony Jones (@tribjazz) January 15, 2017
Tribune sources: Hood will miss Monday's game in Phoenix with the bone bruise, but will be day-to-day otherwise going forward

— Tony Jones (@tribjazz) January 15, 2017
The Jazz got lucky here, insofar as they can be considered lucky. Bone bruises can be tricky to track, and players often miss a handful of games before making their return. But it looked like Hood could have torn or fractured something on the above play. Utah is, without question, fortunate that he didn't.
Alec Burks and Dante Exum will soak up more spin in the meantime. And that's solid depth. Few teams could survive as many injuries as the Jazz have.
That reassurance can of course ring hollow. The Jazz at times look like a juggernaut when they're fully healthy. But their projected starting five this season of Derrick Favors, Rudy Gobert, Gordon Hayward, Hill and Hood hasn't even logged 100 minutes of court time together.
So while it's encouraging to know the Jazz remain on pace to flirt with 50 victories in spite of all this, it's painful to think about how good they could be if the injury bugs would stop invading the roster.