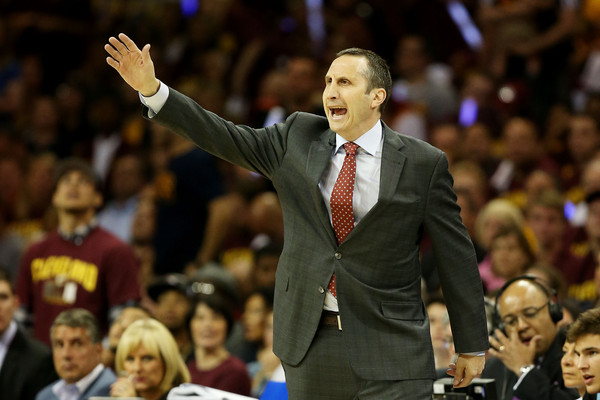 As the NBA head coaching vacancies start to try up, former Cleveland Cavaliers head coach David Blatt continues to watch from the sidelines, going through interviews, but leaving without job offers.
NBA job offers, that is.
According to ESPN.com's Marc Stein, David Blatt has a standing invite to circle back to his old stomping ground:
It'll be intriguing to see if ex-Cavs coach David Blatt would serve as a top NBA assistant next season given the big offers he has in Europe

— Marc Stein (@ESPNSteinLine) May 19, 2016
I'm told Blatt has an open invite to retake his old job at Maccabi Tel Aviv, plus Spanish interest, but sense is he wants to stay in the NBA

— Marc Stein (@ESPNSteinLine) May 19, 2016
It makes sense that Blatt prefers to stick with the NBA. For one, who wants to move. Again. Mostly, though, he was identified as a top coaching candidate before taking the job in Cleveland. But he took the reins under the assumption he would be imparting his craft on a rebuilding squad. He ended up coaching a LeBron James-led contender instead. And while he isn't blameless in his exit, he certainly didn't get the fairest of shakes.
But the coaching well is starting to dry up. As Stein noted, David Blatt is really only in play for one gig at the moment:
It should be noted that David Blatt remains up for the head coaching job in Houston, where Mike D'Antoni is regarded as a leading candidate.

— Marc Stein (@ESPNSteinLine) May 19, 2016
Failing a surprise decision by the Houston Rockets, Blatt will have to spend at least one year as an assistant coach if he wishes to remain in the NBA longer. Then, once the coaching carousel claims more victims between now and next summer, he should have ample opportunity to secure another head coaching job.
In the meantime, I suggest he latch on to the Golden State Warriors, under Steve Kerr. They have an opening after losing Luke Walton to the Los Angeles Lakers and, less recently, Alvin Gentry to the New Orleans Pelicans. And they also have the ability to get Blatt a ring before he takes over his own sideline.