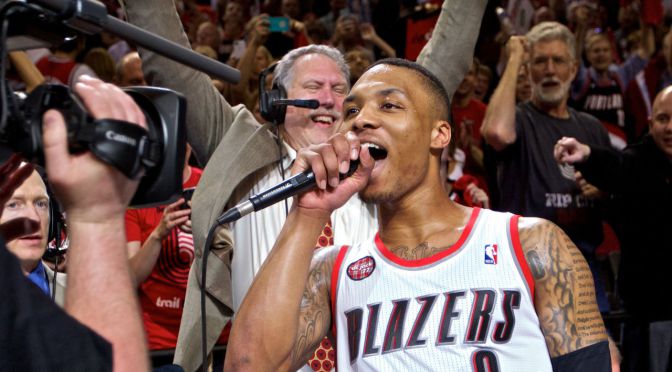 Damian Lillard, 2 time All-Star, has never shied away from the spotlight, whether it be in clutch moments on the court, or whether it be using his position as a basketball player to evoke change socially. As MLK Day and Black History Month rolls around for 2016, race issues have grown to a tipping point in the United States, and there's been all sorts of cultural material created around events like Ferguson, the shooting of Mike Brown, of Charleston, and with such a high representation of African-American players in the NBA, this hasn't gone unnoticed.
Last season, a range of NBA players wore shirts with the words 'I Can't Breathe' printed across them, a reference to the last words of Eric Garner, who was said to have repeated them eleven times after being put in a chokehold over the alleged selling of loose cigarettes. Figureheads worldwide had an opinion on it, and now Lillard's thrown his hat into the arena.
Dame D.O.L.L.A's new track isn't divisive, like some of the dialogue regarding race relations in the US at the moment, but it's more uplifting, with a pop-inspired main chorus, featuring Paul Rey. The Hoop Doctors were invited to attend the video premiere where Lillard gave this speech.
In the song Lillard discusses how we need change, better attitudes, to open up lanes, better avenues', and this school of thought is one that will hopefully gain more popularity in the long run. The video depicts major events such as the taking down of the Confederate flag in South Carolina, along with clips of Martin Luther King and the protests led by him.
Per ESPN, Lillard was quoted, on the theme of the song and video: "Everything that happens goes both ways. We will never know every single fact. That's the main reason I just look at being positive, everyone standing as one…When you stand together, a lot more can always be accomplished."
Over the past year, various players across the NBA have also used their positions in the spotlight to comment on social issues – the most notable being LeBron James, ranked by Forbes as one of the world's most influential athletes, and who was recently called out for not providing comment on the death of Ohio teenager Tamir Rice. The fact is that athletes are expected to be social leaders in this day and age, and Lillard's new song is a reflection of that.