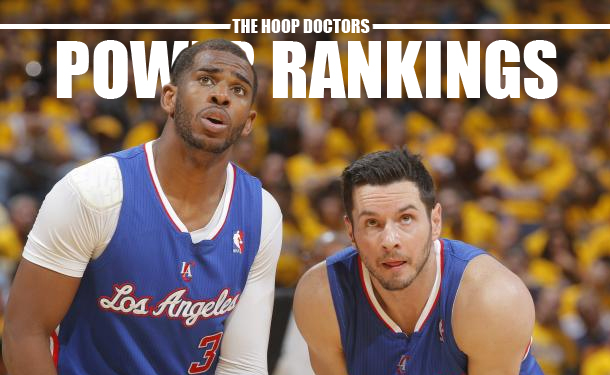 Goodbye, 2015. It's been real, often fun. Sometimes even real fun. But it's time we bid you adieu.
Just not before we send you off with one last batch of NBA power rankings.
The Association is niche-y as ever these days. The championship contender pool contains only Cleveland, Golden State and San Antonio, with Oklahoma City trying to scratch and claw its way back into the mix. The Clippers and Rockets may have started to figure things out, but we can't be sure. We can, however, be sure that the Grizzlies' championship-chasing days are over.
Out east, the middle class is thick with mediocre teams pining for low-end playoff berths. The Knicks and Wizards are doing their damnedest to play themselves outside postseason contention, but the Hornets, Pistons, Celtics and Magic are trying like hell to make that race for the seventh and eighth seeds interesting.
Not that those teams are pigeonholed to seventh and eighth place. There is the potential for them to move up. Almost anyone can move up. A mere four games separates the first-place Cavaliers from the 10th-place Pistons. Things are bound to get wild as the 2015-16 schedule winds down.
Actually, things are about to get wild right now, as we survey the NBA's competitive landscape for one last time in 2015.
***For a week by week list of all our NBA Power Rankings this season, please visit this page.
NBA Power Rankings
| | |
| --- | --- |
| 1 | |

Golden State Warriors

So, the Warriors have basically been winning like the 1995-96 Bulls for an entire year. They're now 71-11 since Jan. 1, 2015. Just some food for thought.

Last Week (1)

| | |
| --- | --- |
| 2 | |

San Antonio Spurs

Boban Marjanovic #NBAVote.

Last Week (2)

| | |
| --- | --- |
| 3 | |

Oklahoma City Thunder

It's crystal clear that the Thunder are the third-best team in the NBA. And yet the gap between them and the Warriors and Spurs is still so wide, it doesn't really matter.

Last Week (3)

| | |
| --- | --- |
| 4 | |

Cleveland Cavaliers

No team in the NBA is better at playing down to the level of their opponent than the Cavaliers.

Last Week (4)

| | |
| --- | --- |
| 5 | |

Atlanta Hawks

The Hawks are back…just not in a 60-win-juggernaut sort of way.

Last Week (9)

| | |
| --- | --- |
| 6 | |

Boston Celtics

Jae Crowder's contract looks better and better each game. He's the most important defender for the NBA's second-best defense, and his three-point stroke can finally be called "above average." Now, if only the Celtics could piece together some semblance of consistency on the offensive end, they would be sitting pretty.

Last Week (5)

| | |
| --- | --- |
| 7 | |

Indiana Pacers

Paul George and friends have cooled off, but their Monday night victory over the Hawks was nevertheless a statement of the "We're still here" persuasion.

Last Week (7)

| | |
| --- | --- |
| 8 | |

Toronto Raptors

Of all the teams in the East, none poses a bigger threat to the Cavaliers right now than the Raptors. That's admittedly not saying much, since we know what a shorthanded Cleveland team did to Atlanta during the Eastern Conference Finals, but it's still a testament to how far Toronto has come defensively.

Last Week (8)

| | |
| --- | --- |
| 9 | |

Miami Heat

Do not trust the Heat's offense. After their loss to the Nets, I'm inclined to remain skeptical about their defense as well.

Last Week (6)

| | |
| --- | --- |
| 10 | |

Los Angeles Clippers

Losing Blake Griffin for a few weeks isn't ideal and, in theory, should only prevent the Clippers from returning to championship contender form. But Chris Paul is an animal and the team is streaking. The Clippers, on the back of their offense, might be able to gain some momentum after all.

Last Week (14)

| | |
| --- | --- |
| 11 | |

Orlando Magic

Orlando is one Elfrid Payton breakout away from being a legitimate threat in the East.

Last Week (10)

| | |
| --- | --- |
| 12 | |

Dallas Mavericks

The Mavericks are the Spurs of mid-end playoff teams. Make of that what you will.

Last Week (13)

| | |
| --- | --- |
| 13 | |

Charlotte Hornets

Well, so much for the Hornets continuing their run of dominance. Their offense is starting to regress toward the mean, and that could be damaging to their playoff hopes.

Last Week (12)

| | |
| --- | --- |
| 14 | |

Chicago Bulls

You want to believe in Chicago. You really do. But you can't. Not until some aside from Jimmy Butler puts together protracted runs of offensive explosions.

Last Week (17)

| | |
| --- | --- |
| 15 | |

Houston Rockets

Don't look now, but the Rockets are kinda-sorta coming. A Christmas Day victory over the Spurs looks good on the resume, and they're now hovering around the top-10 in offensive efficiency.

Last Week (16)

| | |
| --- | --- |
| 16 | |

Detroit Pistons

Detroit is right there, on the cusp of something great, but needs an offensive boost. The Pistons are fielding a top-five offense when Reggie Jackson is on the floor, and a bottom-two attack when he's off. That's a problem.

Last Week (11)

| | |
| --- | --- |
| 17 | |

Washington Wizards

The more you watch the Wizards, the more you feel like their sub-.500 struggles aren't a temporary rut so much as they are the new normal.

Last Week (22)

| | |
| --- | --- |
| 18 | |

Memphis Grizzlies

Goodbye, Memphis Grizzlies' championship window.

Last Week (18)

| | |
| --- | --- |
| 19 | |

Utah Jazz

No Alec Burks or Rudy Gobert? Buckle up kids, this is gonna be a bumpy, potentially playoff-hopes-crippling ride.

Last Week (16)

| | |
| --- | --- |
| 20 | |

New York Knicks

New York has too much workable talent to not rank in the top half of either offensive or defensive efficiency. The fourth-quarter execution is abysmal, and head coach Derek Fisher's lineup decisions aren't helping things.

Last Week (19)

| | |
| --- | --- |
| 21 | |

Denver Nuggets

Half of the Nuggets' roster is battling injuries, yet you wouldn't know it looking at the way they're able to play at the beginning of games. Joffrey Lauvergne and Nikola Jokic are studs, and Denver has an outside chance of re-entering the West's playoff picture.

Last Week (23)

| | |
| --- | --- |
| 22 | |

Portland Trail Blazers

Nothing about the Blazers is especially good. Except their offense. And Damian Lillard. And C.J. McCollum. And Ed Davis. Also Mason Plumlee.

OK, so, basically the Blazers are a not-good basketball team with discernible silver linings. Yay(?).

Last Week (24)

| | |
| --- | --- |
| 23 | |

Sacramento Kings

Dec. 28, 2015: The night that Omri Casspi dueled Stephen Curry in the second quarter of Sacramento's loss to Golden State.

Last Week (25)

| | |
| --- | --- |
| 24 | |

Minnesota Timberwolves

Some people have started to point out that the Timberwolves are gradually slipping into Ben Simmons contention—which, knowing they already have Karl-Anthony Towns and Andrew Wiggins, is fuckin' scary.

Last Week (21)

| | |
| --- | --- |
| 25 | |

Phoenix Suns

"Look, Jeff [Hornacek]. We want to give you every opportunity to keep your job, so we're just going to can half your coaching staff, hang on to the volatile Markieff Morris and invest in a roster that has no chance of meeting the lofty expectations we've set. Sound good?"

Last Week (20)

| | |
| --- | --- |
| 26 | |

Milwaukee Bucks

At what point do we start talking about how Ben Simmons would look in Milwaukee green?

Last Week (26)

| | |
| --- | --- |
| 27 | |

New Orleans Pelicans

Four games separate the Pelicans from an early-season playoff spot. Unless they're able to make some game-changing acquisitions, specifically on the defensive end, it might be time to declare their playoff hopes dead.

Last Week (27)

| | |
| --- | --- |
| 28 | |

Brooklyn Nets

Eight of the Nets' nine wins have come against squads at or above .500. WTF.

Last Week (28)

| | |
| --- | --- |
| 29 | |

Los Angeles Lakers

There are times when the Lakers look like the worst team in basketball, which is saying something considering just how absurdly awful the Sixers are.

Last Week (29)

| | |
| --- | --- |
| 30 | |

Philadelphia 76ers

Philly almost won back-to-back games! Until it didn't.

Last Week (30)