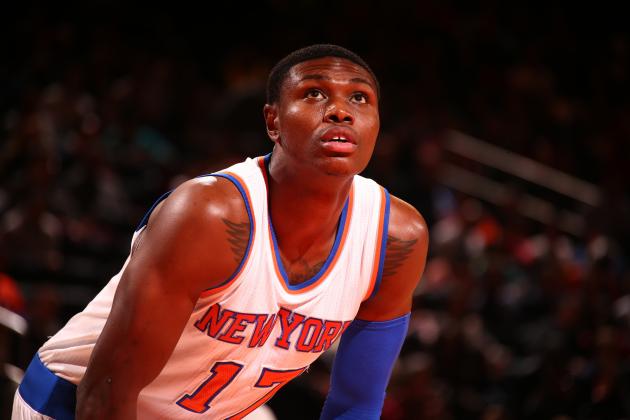 New York Knicks sophomore Cleanthony Early was shot in the right knee and robbed in the early-morning hours of Wednesday. He is expected to be OK.
Thomas Tracy of the New York Daily News broke the story and offered the following details:
New York Knicks forward Cleanthony Early was shot in the right knee in an early-morning attack after leaving a Queens strip club, police sources told the Daily News.

Early, 24, was surrounded by four to six people wearing ski masks and robbed of his items and jewelry — including a gold necklace and gold caps on his teeth, sources said.

The shooting happened at 4:15 a.m., after Early left CityScapes gentlemen's club on 58th Street in Maspeth Queens. He was with an unidentified female when he left the club, sources said.

Early was in an Uber cab, about a mile away from the club, when three cars boxed in the vehicle, sources said.

He was shot once in the right knee, police sources said. He was taken to Elmhurst Hospital in stable condition, and was later being transported to another hospital. His injury does not appear to be life-threatening.
The Knicks released the following statement on the matter:
— NY_KnicksPR (@NY_KnicksPR) December 30, 2015
Early has a history of knee problems, and this is the same knee that he needed to have surgery on as a rookie.
For those chastising Early for being out that late, Kurt Helin of ProBasketballTalk says this:
.@klucas4892 If six guys in ski masks box in your Uber then rob you at gunpoint and shoot you, that's not on you. Don't blame the victim.

— Kurt Helin (@basketballtalk) December 30, 2015
And for those who want the Knicks to now implement a curfew, knowing that Derrick Williams was also robbed this season, The Vertical's Bobby Marks offers this:
Near impossible to impose a curfew system for players post-game. NBA and team security identify hot spots (home/away) to stay away from.

— Bobby Marks (@BobbyMarks42) December 30, 2015
More details are certain to come, but for now, the most important thing is that the 24-year-old Early appears to be alright.