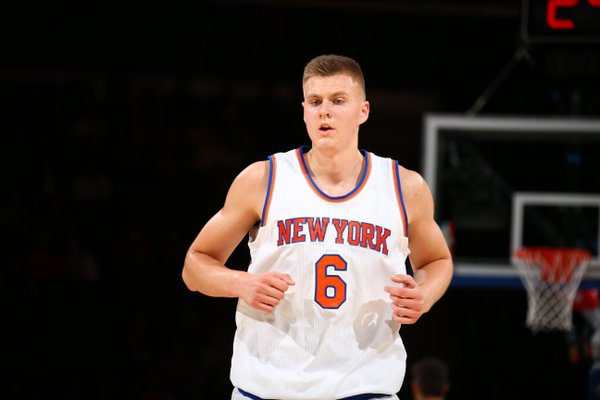 Kristaps Porzingis is hurt.
Again.
But his injury isn't believed to be serious.
Again.
Late in the fourth quarter of the New York Knicks' 94-84 loss to the San Antonio Spurs, Porzingis and Carmelo Anthony were involved in a chaotic scrum for an offensive rebound; Anthony came up with it and either fell or stepped backward onto Porzingis' neck. It didn't look especially pretty, and Porzingis was left on the floor, almost motionless, as the Spurs got back to work on the offensive end.
After the game, the Knicks provided some details on the Porzingis' injury, per the Wall Street Journal's Chris Herring:
Knicks say Porzingis had X-rays on his neck and that they came back negative. He has a soft tissue injury in his neck

— Chris Herring (@HerringWSJ) November 3, 2015
As for what this means for the Knicks' Wednesday night tilt against the Cleveland Cavaliers, well, no one seems to know, according to the New York Daily News' Frank Isola:
Not clear if Porzingis will miss Wednesday vs LeBron & Cavs. Might be wise to hold him out until he's 100 percent. No need to risk anything

— Frank Isola (@FisolaNYDN) November 3, 2015
For what it's worth, Porzingis doesn't seem too concerned:
KP: "I have stiffness in my neck. But it's nothing serious."

— Frank Isola (@FisolaNYDN) November 3, 2015
Prior to the injury, Porzingis was having one hell of a game. He shot just 5-of-15 from the floor, including 1-of-5 from deep, but he held his own against LaMarcus Aldridge on the defensive end, despite committing five fouls in just over 24 minutes of action. He left with 13 points, 14 rebounds, three steals and two blocks, prompting head coach Derek Fisher to wax optimism about his, as well as Jerian Grant's, future with the team:
Fisher said there were moments tonight where both Grant and Porzingis "looked like the future."

— Chris Herring (@HerringWSJ) November 3, 2015
Talk about your bittersweet finishes.
Porzingis has battled injuries since he started his predraft workouts. They've all been deemed minor, but any bump or bruise of concern when it comes to a wiry, 7'3″ superstar prospect.
The Knicks can only hope this doesn't become a trend—or, at the very least, that this is the extent of any trend.