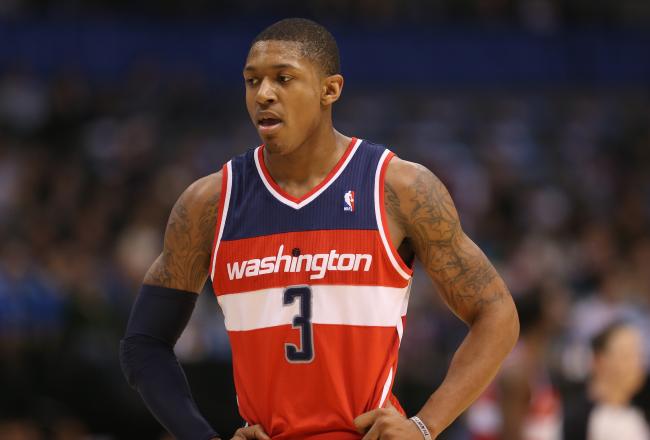 The Washington Wizards would be smart to offer a contract extension to starting shooting guard Bradley Beal, but they made an ever wiser decision to delay the negotiations.
Although Beal deserves a new deal and the Wizards are almost certainly going to pay the Florida product whatever he wants, the front office properly exploited the collective bargaining agreement and its loopholes.
TNT's David Aldridge notes Washington wants Beal back, so there's no need to panic.
Wizards, per sources, won't extend @RealDealBeal23 before deadline. Still hope to sign impact FA in July, then re-sign Beal, who'll be RFA.

— David Aldridge (@daldridgetnt) November 2, 2015
This wasn't a shocking outcome, because the Wizards have two excellent reasons to wait on officially retaining Beal.
Washington would only be able to offer a four-year extension instead of a five-year deal. When you have a star, you do everything to keep him for as long as you can. Waiting until the summer affords the Wizards the opportunity for another season of Beal, which should be a good thing.
Additionally, cap holds significantly impact a team's plan for free agency. If Beal had signed a deal before the Nov. 2 restricted free agent deadline, the cap hit would be exactly what his new salary is.
The max contract for a player with less than six years of NBA service is projected to be about $20.4 million, and Beal should command a salary near the max. However, his cap hold would be 250 percent of his current salary—which is a shade below $5.7 million, according to HoopsHype.
Most importantly, though, Beal's upcoming $14.2 million cap hold is essentially irrelevant because the Wizards hold his Bird Rights and can exceed the projected $89 million salary cap in 2016-17 to re-sign Beal.
This leaves a few extra millions in the bank for the franchise to pursue Oklahoma City Thunder star and Washington native Kevin Durant.
https://www.youtube.com/watch?v=vuL_S6quVfM
The downside to not immediately extending Beal's contract is that the rest of the NBA will have a chance to submit an offer sheet for his services. Washington made a calculated decision but must be prepared to pay him a $20-plus-million salary.
Now, the Wizards aren't in bad shape. They have money to spare, and the San Antonio Spurs showed this exact process can be accomplished. During the summer of 2015, they had to re-sign budding star Kawhi Leonard while working to clear room for a potential big-name signing in LaMarcus Aldridge.
Five minutes after the free-agency moratorium lifted at 12:01 a.m. ET July 1, Yahoo's Adrian Wojnarowski reported Leonard and the Spurs agreed to the framework of a five-year deal.
But that was merely the framework. Leonard trusted San Antonio to manipulate the numbers and still offer his max contract, which became official on July 16. In the meantime, the Spurs signed Aldridge and a other free agents before exceeding the salary cap to retain Leonard.
As long as there's an element of trust between Beal and the Wizards, this was the correct move. If Washington brings Durant home and keeps its shooting guard, not re-signing Beal right now couldn't be a smarter decision.