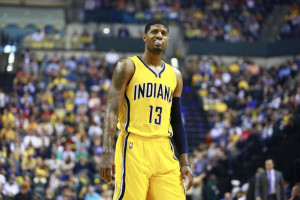 It was a special Sunday of hoops action as two of the NBA's premiere scorers went head-to-head in Cleveland and provided the entire basketball world one hell of a show. Paul George and LeBron James, epic, epic duel.
The stage was Quicken Loans Arena in Cleveland.
From start to finish, both clubs showed no signs of giving in as the game went down to the very last wire. But the King and company were the ones who emerged victorious as they were able to deliver the goods and pull out the necessary stops.
Leading the way for them was the King himself with 29 points, 6 rebounds and four assists. On the other side, it was George countered with his own stellar performance of 32 points, 11 rebounds and 6 assists. Check out their incredible showdown….
Please enable Javascript to watch this video
This is indeed one of the many reasons why we love this game.