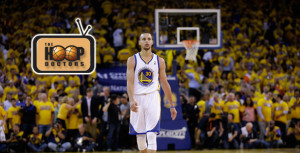 There was once a time in the NBA where taking end-of-quarter heaves actually happened before the buzzer sounded. Nowadays, players tend to care a little more about their shooting percentage. Thus we typically see the majority of players try to squeeze in three, four or even five dribbles before they launch a half-court prayer that has absolutely no chance of getting off before the horn sounds.
And then there is Steph Curry.
The soon-to-be two-time MVP of the Association isn't afraid of jacking up a 90-foot shot at the end of the quarter — even if the low success rate of the attempt could hurt his insane three-point percentage. Curry made this notion very evident Thursday night when the Golden State Warriors hosted the San Antonio Spurs in a highly anticipated matchup.
WATCH:
Please enable Javascript to watch this video