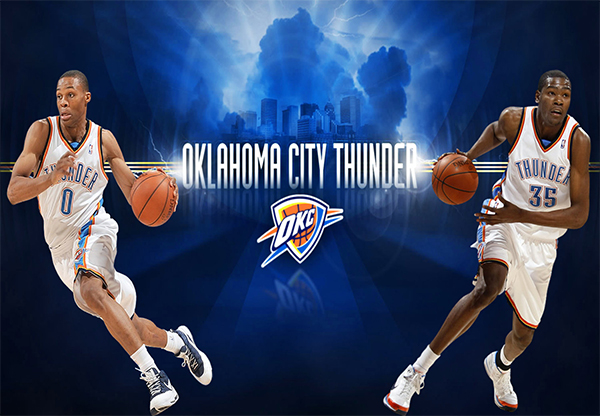 Oklahoma City have a penchant for unearthing talent. Kevin Durant, Russell Westbrook and James Harden were all drafted by the organisation, and if it weren't for a complete trade debacle, the Thunder would absolutely have the best big three in the league, by a long, long way. The Thunder front office has compiled a very strong unit, especially on offense, and they look to challenge for the title with KD back and healthy.
But a battalion is nothing without a leader, and that's been OKC's issue for the last couple of years. We have one of the potential greatest players of all time in Kevin Durant, and a certain MVP contender in Russell Westbrook. Every top team in the league, even those that have assembled so-called "big threes", have a clear leader. Cleveland have LeBron, Golden State have Curry, the Clippers have Chris Paul, the Rockets have James Harden. A team will NOT succeed without a clear player to rally behind.
On paper, OKC's situation doesn't make any sense. This team is good enough to legitimately contend for a title. Why aren't they, then? A lack of clear direction, that's why. Billy Donovan has an opportunity to establish a hierarchy in the culture in Oklahoma, and that's what they need. Players need to learn their place within a team environment. Since the Harden trade, Russell Westbrook's averaged 9.1 win shares per season. On the flipside, Kevin Durant's averaged 14.3, including a season in which he only played 27 games due to injury. Clearly, KD is more valuable to the team. As such, the Thunder head office needs to decide now – what are they going to do? There's a myriad of possibilities, but none that can be carried out without dealing damaging blows to the egos of these superstar NBA players, and in effect their long term title hopes.
My solution would be to trade Russell Westbrook. The man is coming off the back of an MVP-contender year, he's clearly an asset. He was almost as good as Michael Jordan in his prime, statistically. That's a huge selling point for almost every single team in the league. He also is begging to be the number one, and he won't get that unless Kevin Durant goes, and the only way that's happening is if the Thunder lose him in free agency in 2016. I'd trade Westbrook to a team that can provide a quality point guard in return, but also a variety of pieces that complement Durant. I can see a trade happening, perhaps with Chicago – Westbrook, Waiters and DJ Augustin for Rose, Hinrich and Tony Snell? Alternatively, if Durant bolts in 2016, Westbrook assumes prime position with a wealth of talent in the frontcourt in Enes Kanter.
Above all else, OKC need to figure this out, and until that happens, they're not going to compete for a championship. They've either got to lock up Durant and trade Westbrook, or try to get something in return for Durant, because losing a future Hall of Famer for nothing seems like an awfully poor management decision from every angle. There's never two alpha dogs – when there are, it gets UGLY. This season will show the height of the tension between Westbrook and Durant, on and off the court if something isn't done in the front office.