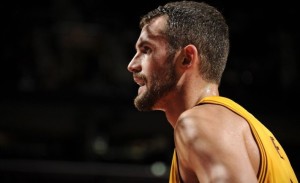 Shortly after signing LeBron James during the offseason, the Cleveland Cavaliers shipped No. 1 overall pick Andrew Wiggins to the Minnesota Timberwolves in exchange for Kevin Love.
The acquisition was supposed to make the new-look Cavs a dominant club in the Eastern Conference, though that expectation for immediate success was certainly unfair.
Nevertheless, Love's 2014-15 season has contained more lows than highs, and the difficulty started early—like in the preseason, early—despite Chris Bosh's greatest efforts to warn the former All-Star.
According to Chris B. Haynes of the Northeast Ohio Media Group, Love wanted more touches down low in order to establish a presence and work his way toward the perimeter.
"My entire life I've played the game from inside-out," Love said. "So the more touches I can get inside to get myself going, the better. I'm not accustomed to starting out a game shooting a three, so it's just something that I see.
The power forward being able to space the floor for LeBron is an asset for Cleveland, but Love apparently doesn't see it that way, as noted by Haynes.
"I heard some people calling me that but I know I'm not a stretch-four," Love said. "I'm a post player who can shoot. Right now I'm just doing what I'm called to do. For good, bad or indifferent, I'm playing my role and doing what's asked of me."
Although "a post player who can shoot" is quite literally the definition of a stretch-four, that's not necessarily an important detail to debate. The point is that Love isn't happy right now anyway.
Thursday couldn't have made him feel any more comfortable in Cleveland.
Love didn't enter the game during the entire fourth quarter, watching from the bench as his team crawled back into—err, observing Kyrie Irving drain everything he threw toward the rim and lift the Cavaliers to an overtime victory over the San Antonio Spurs.
But how was Love feeling?
Meanwhile, Kevin Love is on the bench https://t.co/taBdLbjdsR

— The Cauldron (@TheCauldron) March 13, 2015
To recap, Love wasn't happy with his role, wasn't happy with being defined in that role and wasn't even on the court until overtime in a primetime matchup against the defending champions.
How much more can he take?
The answer basically has two deciding factors: Can Love grasp the notion that his best opportunity to win a championship is alongside the best player in the world while handling the fact he won't be a featured scorer?
When LeBron tweeted, "Stop trying to find a way to FIT-OUT and just FIT-IN," he wasn't wrong. Cleveland's best chance to win an NBA championship is with Love accepting his role as a stretch-four, moving away from the block and contributing as an outside shooter.
However, Love can't even do that if he's sitting on the sideline.
The Cavaliers beat the Spurs behind Irving's unbelievable 57-point performance, but they might be losing what's left of Love. His already disappointing role has reached the next level: Benched.
Unless otherwise noted, stats are courtesy of Basketball-Reference.com and are accurate as of March 13.
In addition to his work for The Hoop Doctors, David Kenyon contributes to Bleacher Report and Sportsnaut. You can follow him on Twitter: @Kenyon19_BR.