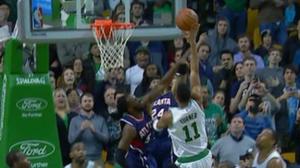 Even the best fall down sometimes.
On Wednesday night, the top-seeded Atlanta Hawks fell down to earth as they suffered a heart-breaking defeat to the Celtics with a final score of 89-88 and just their 11th loss of the season.
At a certain point in the game—the Hawks owned an 18-point lead but were unable to sustain it as the Celtics came roaring back to steal one from them. The win was thanks to the heroics of Evan Turner who nailed a game-winning floater with just 0.2 seconds remaining in the game….
Please enable Javascript to watch this video
Benjamin Felix Santos is currently a senior college student from Manila, PH. An aspiring NBA writer, who bleeds the purple and gold. His love and passion for the game will never die.
Follow @biefsantos