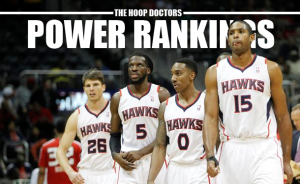 Heigh-ho, heigh-ho, it's off to the 2015 NBA All-Star Game we go.
Okay, so, I'm pretty sure "heigh-ho" refers to yawning or disappointment, but screw it. I wanted to both rhyme and write "heigh-ho," so let's just pretend.
Anyway, the NBA is speeding toward its All-Star break, leaving a trail of injuries, playoff-seeding battles and questions in its wake. So, the usual.
As we prepare for the All-Star festivities, things feel a bit odd. The Warriors and Hawks look burnt out, the Raptors and Wizards seem content remaining the same, and the Spurs have yet to take over the world. It's all very, very weird. Unsettling, even.
Plus, you know, the injuries. Blake Griffin, Anthony Davis, Rajon Rondo, Carmelo Anthony, Dwyane Wade, Kobe Bryant, Bradley Beal. No, no, no. Fuck injuries. They suck and are starting to make us think—even though the data has already proved—that the NBA season is too crazy-ass long.
Now, on a lighter note: To the power rankings submarine!
*Welcome back to The Hoop Doctors' PG-13 NBA Power Rankings, where almost anything goes. Language may sometimes not be suitable for those reading at work, in which case I recommend you don't read these aloud or you get a new job. Like most PG-13 movies, we'll permit one F-bomb per post. Those devoid of a sense of humor need not proceed.
***For a week by week list of all our NBA Power Rankings this season, please visit this page.
NBA Power Rankings
| | |
| --- | --- |
| 1 | |

Golden State Warriors

Though they've won three games in a row, the Warriors seem like they're sucking. I guess, in a way, that's actually a good thing(?).

Last Week (1)

| | |
| --- | --- |
| 2 | |

Atlanta Hawks

Like the Warriors, the Hawks seem to have hit a midseason plateau. Returning to world-beater status after the All-Star break will be another good test of their legitimacy.

Last Week (2)

| | |
| --- | --- |
| 3 | |

Memphis Grizzlies

Somehow, the Grizzlies are within four games of the Warriors. When you think about how good the Warriors have been overall, that's flingin', flangin' nuts.

Last Week (3)

| | |
| --- | --- |
| 4 | |

Cleveland Cavaliers

Might the Cavaliers peak at No. 4 this season? With the way their above counterparts are playing, the answer is: definitely maybe.

Last Week (4)

| | |
| --- | --- |
| 5 | |

Houston Rockets

James Harden was the muse for Belinda Carlisle's "Heaven is a Place on Earth."

Last Week (7)

| | |
| --- | --- |
| 6 | |

San Antonio Spurs

Sure, the Spurs are still coming. Nonetheless, it bothers the hell out of me that they haven't scrapped their way back into one of the West's top-four slots.

Last Week (7)

| | |
| --- | --- |
| 7 | |

Portland Trail Blazers

"Left thumbs are overrated." -LaMarcus Aldridge

Last Week (9)

| | |
| --- | --- |
| 8 | |

Toronto Raptors

Fun offense, bland defense. Raptors.

Last Week (10)

| | |
| --- | --- |
| 9 | |

Washington Wizards

Bland offense, fun defense. Wizards.

Last Week (11)

| | |
| --- | --- |
| 10 | |

Dallas Mavericks

Really starting to think the Mavericks are this year's "What the hell are they?????" team.

Last Week (8)

| | |
| --- | --- |
| 11 | |

Los Angeles Clippers

So, the Clippers have a below-.500 record against winning teams, but a winning record against the West's top-five teams. WHAT?

Last Week (13)

| | |
| --- | --- |
| 12 | |

Chicago Bulls

Roughly seven months ago, some of us (not me, I swear) were entertaining the notion that Chicago might be the East's best team. LOLOLOLOLOLOL.

Last Week (11)

| | |
| --- | --- |
| 13 | |

Oklahoma City Thunder

Slowly, surely the Thunder are getting whole aga—Steven Adams???? Noooooooooo.

Last Week (15)

| | |
| --- | --- |
| 14 | |

Milwaukee Bucks

If there was a "Sneak Attack of the Year" award, the Bucks would win it by a landslide.

Last Week (16)

| | |
| --- | --- |
| 15 | |

New Orleans Pelicans

In the event Anthony Davis misses the playoffs after being forced out of the All-Star game, I will be boycotting all of New Orleans' trademark food dishes. Except gumbo.

Last Week (12)

| | |
| --- | --- |
| 16 | |

Phoenix Suns

Phoenix is both fun and undersized, which, admittedly, makes for an iffy combination—one that, in my obnoxious opinion, won't get them to the playoffs.

Last Week (13)

| | |
| --- | --- |
| 17 | |

Detroit Pistons

Greg Monroe has been feasting lately. With the Pistons on the up and up, his free-agency case is shaping up to be hella interesting.

Last Week (18)

| | |
| --- | --- |
| 18 | |

Charlotte Hornets

Mo Williams to the rescue!

Last Week (17)

| | |
| --- | --- |
| 19 | |

Miami Heat

Hassan Whiteside is making me believe in Santa Clause again.

Last Week (22)

| | |
| --- | --- |
| 20 | |

Brooklyn Nets

My summary of the Nets has been the same almost every week, and I'm not backing down now: Trade everyone, dagnabbit.

Last Week (20)

| | |
| --- | --- |
| 21 | |

Utah Jazz

Too bad Gordon Hayward doesn't play in the East, because then he would be an All-Star.

Last Week (21)

| | |
| --- | --- |
| 22 | |

Boston Celtics

#BoogieToBoston

Last Week (19)

| | |
| --- | --- |
| 23 | |

Indiana Pacers

The Pacers just keep hanging around, like a bad cold. Or an ingrown armpit hair. Or Nicolas Cage's acting career.

Last Week (23)

| | |
| --- | --- |
| 24 | |

Sacramento Kings

Once this Georgle Karl business is hammered out, the Kings have to get their in-house politics together, lest #BoogieToBoston become a real thing.

Last Week (24)

| | |
| --- | --- |
| 25 | |

Orlando Magic

You know this team has underachieved when it almost loses to the Knicks.

Last Week (25)

| | |
| --- | --- |
| 26 | |

Denver Nuggets

Bryan Shaw has a message for any and all millennials: Get off my lawn!

Last Week (26)

| | |
| --- | --- |
| 27 | |

Philadelphia 76ers

Ahem: #NBA teams that rank in top 12 of Def. Eff. and Pace this season: Warriors, Rockets Thunder Blazers … … … Sixers

Last Week (27)

| | |
| --- | --- |
| 28 | |

Los Angeles Lakers

Killer dolphins made me move the Lakers up a spot.

Last Week (29)

| | |
| --- | --- |
| 29 | |

New York Knicks

Buh-bye, Amar'e. It's been real, seldom fun and really expensive.

Last Week (28)

| | |
| --- | --- |
| 30 | |

Minnesota Timberwolves

Shall we set Andrew Wiggins' All-Star debut for 2017 or nah?

Last Week (30)