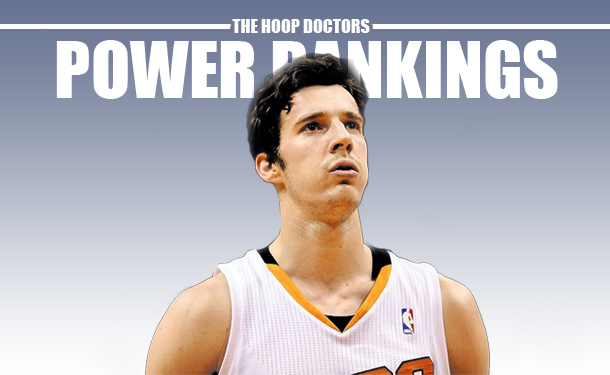 Stand up, folks. Stretch. Bend. Flex. Make old-folk noises. The NBA trade deadline is finally upon us.
This implies two things: First, real, live basketball is about to begin again. Fist-pump it up.
Second, the rumors are flowing like vodka and tequila and gin and rum and whiskey during J.R. Smith's weekend-long vacation from the city of Cleveland. Navigating those rumors can be difficult. Most of them are crap this time of year—worthless flotsam in the sense that what you're hearing isn't true, or is some thrice-relayed version of a conversation that barely took place.
This year's trade deadline promises to be interesting, but stands to be boring. Most of the big names (Rajon Rondo, Jeff Green, Iman Shumpert, J.R. Smith, Timofey Mozgov, etc.) have already been dealt. Now we're left to sort through Goran Dragic-devoted chatter while deciding whether or not the Nuggets will grow a set of brass ones and actually blow their poorly built roster to smithereens.
In the meantime, as you wait for the deadline to pass and are taking a break from the rumor gauntlet that millennial hipsters like to call "Twitter," we have power rankings for you. There hasn't been a lot of movement, because, well, there hasn't been a lot of basketball played since we last met. Still, we're going to have fun, like always. So saddle up. You know what time it is.
To the power rankings snow tube!
*Welcome back to The Hoop Doctors' PG-13 NBA Power Rankings, where almost anything goes. Language may sometimes not be suitable for those reading at work, in which case I recommend you don't read these aloud or you get a new job. Like most PG-13 movies, we'll permit one F-bomb per post. Those devoid of a sense of humor need not proceed.
***For a week by week list of all our NBA Power Rankings this season, please visit this page.
NBA Power Rankings
| | |
| --- | --- |
| 1 | |

Golden State Warriors

Will anyone dethrone the Warriors this season? Acceptable answers include: No. And that's it.

Last Week (1)

| | |
| --- | --- |
| 2 | |

Atlanta Hawks

Could Ray Allen just sign with the Hawks? Pretty please?

Last Week (2)

| | |
| --- | --- |
| 3 | |

Memphis Grizzlies

Really, really want the playoffs start, so we can all see what kind of team the Grizzlies actually are.

Last Week (3)

| | |
| --- | --- |
| 4 | |

Cleveland Cavaliers

The Cavaliers won the trade deadline weeks before the actual trade deadline.

Last Week (4)

| | |
| --- | --- |
| 5 | |

Houston Rockets

That there is life in Houston, without Dwight Howard, is truly spectacular. Too bad Goran Dragic doesn't feel the same.

Last Week (5)

| | |
| --- | --- |
| 6 | |

San Antonio Spurs

It's so boring how the Spurs just chill within top six, isn't it?

Last Week (6)

| | |
| --- | --- |
| 7 | |

Portland Trail Blazers

One of two things needs to happen for the Blazers' season to be a legitimate success: Nicolas Batum has to regain his everything, or Portland's front office must find a way to make a play for Gerald Green, Wilson Chandler or Arron Afflalo.

Last Week (7)

| | |
| --- | --- |
| 8 | |

Toronto Raptors

Are the Raptors genuine title contenders? No, sorry. Blame the defense. But they are a good team that will have some cap maneuverability this summer. That, plus Masai Ujiri's involvement, makes for a deadly combination.

Last Week (8)

| | |
| --- | --- |
| 9 | |

Dallas Mavericks

AMAR'E STOUDEMIRE-RAJON RONDO PICK-AND-ROLLS FOR THE WIN.*

*Pending Rondo's return to the floor.

Last Week (10)

| | |
| --- | --- |
| 10 | |

Chicago Bulls

Despite continued issues with injuries, the Bulls are gradually getting their act together. Who knew?




Last Week (12)

| | |
| --- | --- |
| 11 | |

Oklahoma City Thunder

So long as Kevin Durant, Serge Ibaka and Russell Westbrook are healthy and sharing the floor, Oklahoma City will be fine.

Fine enough to contend for a title? We shall see.

Last Week (13)

| | |
| --- | --- |
| 12 | |

Los Angeles Clippers

The Clippers are inflexibility, personified.

Last Week (11)

| | |
| --- | --- |
| 13 | |

Milwaukee Bucks

This Bucks team is so fun to watch. If they add some offensive firepower over the summer, the East is in trouble—more so than usual.

Last Week (14)

| | |
| --- | --- |
| 14 | |

Washington Wizards

Randy Wittman sucks the fun and effectiveness out of the Wizards' offense. That, or everyone (aside from John Wall) isn't as good as our eyes advertise.

Last Week (9)

| | |
| --- | --- |
| 15 | |

New Orleans Pelicans

No Jrue Holiday likely spells the end of New Orleans' playoff hopes. Anthony Davis' continued absence most definitely portends the end of our very existence.

Last Week (15)

| | |
| --- | --- |
| 16 | |

Phoenix Suns

Both Isaiah Thomas and Goran Dragic, albeit in different fashions, have basically blasted the Suns' front office. This is no bueno.

Last Week (16)

| | |
| --- | --- |
| 17 | |

Detroit Pistons

Twitter scuttlebutt suggests the Pistons tried to acquire Joe Johnson, using Brandon Jennings as bait. The Pistons are officially confusing again.

Last Week (17)

| | |
| --- | --- |
| 18 | |

Miami Heat

Party in the city where the heat is on; all night on the streets 'til the break of dawn; Goran Dragic wants to go to Miami; and yet he's definitely not going to Miami.

Last Week (19)

| | |
| --- | --- |
| 19 | |

Charlotte Hornets

Rumor, which is to say common sense, has it that interested teams can acquire Lance Stephenson for a partially eaten box of animal crackers.

Last Week (18)

| | |
| --- | --- |
| 20 | |

Boston Celtics

Meet the Boston Celtics, accidental playoff contenders.

Last Week (22)

| | |
| --- | --- |
| 21 | |

Indiana Pacers

Under no circumstances should Paul George play this season. Taking the extra time to heal would make more sense.

Then again, the Pacers, despite being a world below .500, still have a shot at the playoffs. The temptation to say otherwise is real.

Last Week (23)

| | |
| --- | --- |
| 22 | |

Utah Jazz

[Insert Enes Kanter frowny face here]

Last Week (21)

| | |
| --- | --- |
| 23 | |

Brooklyn Nets

Relative to their payroll, only one team is worse than the Nets. Said team shall remain nameless.

Okay, fine, it's the Knicks.

Last Week (20)

| | |
| --- | --- |
| 24 | |

Orlando Magic

Someone, anyone, make this team play with more pace. Please.

Last Week (25)

| | |
| --- | --- |
| 25 | |

Sacramento Kings

This trade season, the Kings are interested in anyone and everyone they cannot actually acquire.

Last Week (24)

| | |
| --- | --- |
| 26 | |

Denver Nuggets

Denver is a special kind of dysfunctional this season.

Last Week (26)

| | |
| --- | --- |
| 27 | |

Philadelphia 76ers

That awkward moment when you realize the Sixers are no longer the NBA's worst team and haven't been for a while.

Last Week (27)

| | |
| --- | --- |
| 28 | |

Minnesota Timberwolves

Zach LaVine has a jet-powered-moon-boots-on-steroids vertical.

Last Week (30)

| | |
| --- | --- |
| 29 | |

Los Angeles Lakers

Like, at least some of the league's other bad teams are fun to watch. The Lakers are just sad.

Last Week (28)

| | |
| --- | --- |
| 30 | |

New York Knicks

Cheer up Knicks fans, because there's a certain NBA star in his prime who wouldn't mind joining New York's legion of awful. Ahem: Contextualizing Goran Dragic's list of preferred trade destinations.

Last Week (29)