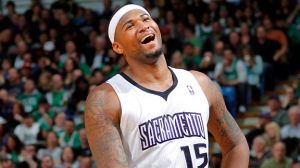 It'll still be a long while before we witness the resurgence of the Boston Celtics—as a lot of major changes and key acquisitions are necessary for them to rebuild.
But the question on everyone's mind in Boston is, 'where do we start'? Who should be the first target?
Obviously, an established, but young star is needed as a cornerstone of the rebuild. Rumors have been swirling that Kings center—DeMarcus Cousins—is on the radar of the Celtics to be that first building block. The Celtics' volume of future draft picks may prove to be of use in negotiating a deal for the big man.
Another Celtics' big man rumor floating around during All-Star weekend has been their pursuit of All-Star DeMarcus Cousins.
But let's not be too optimistic regarding the possibility of this scenario actually coming to fruition, as we all know that George Karl has just officially been hired as the new head coach of the Kings, who are also hoping for the development of a positive connection among their new coach and their cornerstone player, DeMarcus Cousins.
The Celtics' only chance for a possible Cousins trade would be if he remains disgruntled with the team and is unable to create a good connection with their new head coach. And if that's the case, the Kings may start considering offers for their All-Star center. However, tomorrow is the trade deadline, so that's not really possible. It looks like this rumor is just smoke, no fire, like 99% of the other 'reports' we are hearing this week.
Benjamin Felix Santos is currently a senior college student from Manila, PH. An aspiring NBA writer, who bleeds the purple and gold. His love and passion for the game will never die.
Follow @biefsantos