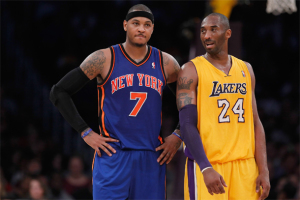 During the most recent NBA lockout, the owners hung their collective hat on the fact that they felt they weren't profitable enough and the players were asking for too much. Since then, the NBA's brand has grown and the league is as popular as it's been in a while.
Forbes recently assessed the value of each team and for the first time in history, the average NBA team is valued at over $1 billion. The Lakers, Knicks, Bulls, Celtics and Clippers make up the top 5, but you can view the entire list at Forbes. Also worth note: there are 11 teams valued at over $1 billion, compared to just three last year.
There are now 11 NBA teams worth at least $1 billion, by our count, compared to three a year ago. The Los Angeles Lakers lead the way at $2.6 billion, up 93% over last year. The Lakers finished with their second worst record in franchise history at 27-55 last season and are faring even worse this year, but the team has the richest local TV deal in the sport: a 20-year, $4 billion contract with Time Warner that kicked off in 2012. Ratings on SportsNet LA were off 54% last year, but the team still pocketed $125 million for the season from Time Warner.
H/T: Forbes