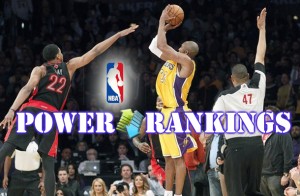 He's back.
Kobe Bryant has officially returned for the Los Angeles Lakers, blowing our weekly NBA power rankings straight to hell…is what I would've written if that actually happened.
The Black Mamba is indeed back, but hasn't done anything to shift our standings. If anything, he hurt the Lakers by not rising up out of center court, sporting a cape and combat boots, ready for battle, when he returned. All we got was some Darth Vader music—which was still pretty awesome.
Other things happened, too. The Indiana Pacers are starting to make me believe, though not quite. The San Antonio Spurs continue to be amazing. So, boring. And when the Portland Trail Blazers aren't requesting a move to the Eastern Conference, they're making us scratch our heads by being so damn incredible.
Elsewhere, tankers continue to tank. Some of them accidentally (how you, Milwaukee?). Rudy Gay has joined a puzzling dance party in Sacramento, while the Toronto Raptors are now fit to plummet down the standings of an already horrific Eastern Conference. We think. Potential addition by subtraction comes into play here.
Rounding out our pre-ranking observations are the New York Knicks and Brooklyn Nets, both of whom still suck something awful and have the two-highest payrolls in the NBA. And you thought the dollar wasn't what it used to be.
Join The Hoop Doctors as we try to make sense of a league that has been wonderfully/maddeningly unpredictable, more so than usual.
**Welcome back to The Hoop Doctors' PG-13 NBA Power Rankings, where almost anything goes. Language may sometimes not be suitable for those reading at work, in which case I recommend you don't read these aloud or you get a new job. Like most PG-13 movies, we'll permit one F-bomb per post. Those devoid of a sense of humor need not proceed. 
***For a week by week list of all our NBA Power Rankings this season, please visit this page.
NBA Power Rankings
| | |
| --- | --- |
| 1 | |

Portland Trail Blazers

Breaking: Portland is either for real…or its offense is really good at fooling all of us.

Last Week (3)

| | |
| --- | --- |
| 2 | |

Indiana Pacers

Still don't trust them. Sue me. They've had the fourth-easiest schedule in the NBA. Maybe if so many people stopped riding their bandwagon there would be room for me to board.

Last Week (4)

| | |
| --- | --- |
| 3 | |

San Antonio Spurs

Let me tell you how good the Spurs are. They're so good that they've dropped down a spot for two consecutive weeks, and still check in as the third-best team in the league. Yeah, that good.

Last Week (2)

| | |
| --- | --- |
| 4 | |

Oklahoma City Thunder

Oklahoma City has had the fourth most difficult schedule, ranks eighth in offensive efficiency and fifth in defensive efficiency. That's advanced analytics-speak for: Holy shit, the Thunder are awesome.

Last Week (5)

| | |
| --- | --- |
| 5 | |

Miami Heat

My God, the Heat have been eh. Sometimes they're better than eh. Most of the time they're just eh. Should I have moved them down further? Eh.

Last Week (1)

| | |
| --- | --- |
| 6 | |

Houston Rockets

Before the season began I had serious doubt that the James Harden- and Dwight Howard-led Rockets would crack the top 10. This is them. Making me look like a fool. While they almost crack the top five.

Last Week (7)

| | |
| --- | --- |
| 7 | |

Los Angeles Clippers

Can't shake the feeling that injuries to J.J. Redick and Matt Barnes will kill them eventually. Offense still ranks fourth and defense has climbed to 13th, though. Perhaps I'm wrong. Oh, and LONG LIVE STEPHEN JACKSON.

Last Week (8)

| | |
| --- | --- |
| 8 | |

Denver Nuggets

Doesn't matter who's injured. Or who they traded. Or who's their No. 1 scorer on any given night. The Nuggets just win.

Last Week (6)

| | |
| --- | --- |
| 9 | |

Dallas Mavericks

Dirk Nowitzki is joining Monta Ellis in his assault on defenses everywhere, replete with buzzer beaters and jaw-dropping stat lines. And no, you're not dreaming.

Last Week (10)

| | |
| --- | --- |
| 10 | |

Phoenix Suns

Someone. Anyone. For the love of all that's purple. And purple dinosaurs. And grape-flavored ice pops. Inform the Suns they're supposed to be tanking.

Last Week (12)

| | |
| --- | --- |
| 11 | |

Golden State Warriors

Lost to the Bobcats? FOR SHAME. Stephen Curry went for 43 points? BOO YA! Still can't quite figure this team out? You're not alone.

Last Week (9)

| | |
| --- | --- |
| 12 | |

Los Angeles Lakers

KOBE'S BACK—before 2014. And the Lakers haven't fallen out of the playoff hunt—after December. Whoopity doo!

Last Week (11)

| | |
| --- | --- |
| 13 | |

Atlanta Hawks

Yes, I'm bored of listing Western Conference teams. What of it?

Last Week (11)

| | |
| --- | --- |
| 14 | |

Minnesota Timberwolves

They've had a tough schedule, but I'm running out of excuses. Minny needs to right the ship soon, before they fall out of the playoff picture early. Again.

Last Week (13)

| | |
| --- | --- |
| 15 | |

Memphis Grizzlies

So screwed. Ask me to describe the Grizzlies, and that's what I'll say. No Marc Gasol. No Quincy Pondexter. Unhealthy Tony Allen. Stagnant offense. Waning defense. This team has it bad. But they've had the second-hardest schedule and are playing .500 basketball anyway, so that's something.

Last Week (15)

| | |
| --- | --- |
| 16 | |

Detroit Pistons

Detroit is the second coming of Atlanta. Middling defense, mediocre offense—pedestrian everything. Should we start calling this Josh Smith Syndrome?

Last Week (20)

| | |
| --- | --- |
| 17 | |

New Orleans Pelicans

Good news, the Pellies are 2-2 since Anthony Davis went down. Better news: Their offense is holding their own and ranks seventh in efficiency. Bad news: Their schedule has been relatively easy. Worse news: Defensively, they're shot without The Brow.

Last Week (14)

| | |
| --- | --- |
| 18 | |

Chicago Bulls

Derrick Rose-less wins over the Heat will do this for the Bulls.

Last Week (19)

| | |
| --- | --- |
| 19 | |

Boston Celtics

Forty-one point drubbings of the Knicks on the road will do this for the Celtics.

Last Week (24)

| | |
| --- | --- |
| 20 | |

Charlotte Bobcats

Impostors. The Bobcats are impostors. No way they're good enough to make the playoffs. Oh, wait—they play in the Eastern Conference. Almost forgot. Alrighty then. Keep truckin', Kemba.

Last Week (18)

| | |
| --- | --- |
| 21 | |

Washington Wizards

John Wall has bordered on amazing. Currently, he's a top-five point guard. If only the Wizards' oft-anemic offense would follow suit.

Last Week (16)

| | |
| --- | --- |
| 22 | |

Cleveland Cavaliers

How many losses will it take for the Cavs to realize LeBron wants no part of this disaster? On the plus side, Andrew Bynum has looked goooood. 

Last Week (27)

| | |
| --- | --- |
| 23 | |

Philadelphia 76ers

Doubt continues to overcome me. Is Michael-Carter Williams actually injured, or is he simply too good for the Sixers to play? If the latter's the case, a spot on the "injured" list might open for Evan Turner soon enough.

Last Week (23)

| | |
| --- | --- |
| 24 | |

Toronto Raptors

Goodbye, Rudy Gay. Goodbye, Kyle Lowry and DeMar DeRozan. Probably. Hello, Andrew Wiggins. Or Jabari Parker. Or Julius Randle. Maybe.

Last Week (21)

| | |
| --- | --- |
| 25 | |

Orlando Magic

Talent abounds on this roster and if there's a God, Arron Afflalo will be an All-Star. Now about that disgusting defense of Orlando's…

Last Week (22)

| | |
| --- | --- |
| 26 | |

Sacramento Kings

Welcome to the shit show, Rudy. You and your horrific shot selection, spotty defense and nonexistent efficiency are going to fit right in. Word of advice: Don't poke the Boogie.

Last Week (25)

| | |
| --- | --- |
| 27 | |

New York Knickss

Make no mistake, the Knicks didn't earn this. Brooklyn's just so much worse.

Last Week (28)

| | |
| --- | --- |
| 28 | |

Brooklyn Nets

Paul Pierce and Deron Williams are on their way back. Meanwhile, the Nets rank in the bottom eight of points scored and allowed, rebounds and assists per game. Have I mentioned this team was overrated? And screwed worse than the Grizzlies? Okay then.

Last Week (26)

| | |
| --- | --- |
| 29 | |

Milwaukee Bucks

Serious question: Which team finishes with the worse record, Utah or Milwaukee? Yes offense, John Hammond.

P.S. I miss Zaza.

Last Week (29)

| | |
| --- | --- |
| 30 | |

Utah Jazz

Four straight losses by at least 10 points. Now that's what I'm talking about. Tank right. Tank forever.

Last Week (30)