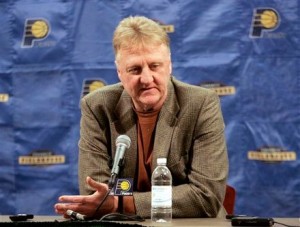 The Indiana Pacers are one of the best up-and-coming teams in the NBA. They proved that when they gave the Miami Heat all they could handle in the conference Finals. A big reason for their surge is Larry Bird. Bird left the team a few years ago, but is now returning to the front office.
This comes at a great time because you'd think that the Pacers are just another piece away from becoming legit title contenders.
The Pacers will welcome back Bird at a news conference at 10 a.m. ET Thursday – one year to the day after he resigned his position with the franchise.

Bird coached the Pacers from 1997-2000 and returned to the franchise in 2003 as president.Bird was voted the NBA's Executive of the Year in 2012 after leading the Pacers' revival from the draft lottery to the Eastern Conference's elite. Bird stepped away at season's end and moved back to Florida to attend to some health issues but became eager to return to Indiana in order to complete the job in transforming the Pacers into an NBA champion.
H/T: Yahoo