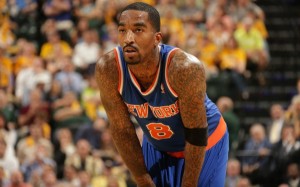 J.R. Smith has opted out of his final deal with the Knicks, allowing him to become a free agent. He could still return to New York, but is drawing interest from other squads.
The Milwaukee Bucks are one team who has interest in Smith. Given his playoff performance after being suspended for elbowing Jason Terry, Knicks fans, generally speaking, aren't exactly begging Smith to return. It's almost as if we have forgotten about his Sixth Man of the Year award.
The Milwaukee Bucks have "strong" interest in the New York Knicks' J.R. Smith and also want to make an offer to his teammate Chris Copeland, two league sources confirmed to ESPN.com.

The Bucks will be entering free agency with their starting backcourt, Brandon Jennings and Monta Ellis, testing free agency. But they also have leverage because they are under the cap, unlike the Knicks, and they can outbid for the services of Smith and Copeland.

The most Smith can make in New York is $5.58 million with early Bird rights. He declined his player option of $2.9 million earlier this month, making him an unrestricted free agent.
H/T:  ESPN