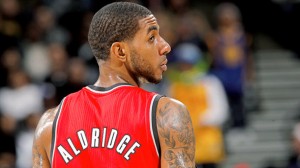 Something's fishy in Portland.
According to Mike McGraw of the Daily Herald, LaMarcus Aldridge wants to be traded from the Portland Trail Blazers and he would like to land with the Chicago Bulls:
Word is, Aldridge wants to escape from Portland's rebuilding project and has made it known that he'd like to land in Chicago.

Deng for Aldridge won't get it done. The Blazers want Joakim Noah in return and the Bulls don't want to give up the superior defensive big man.

Here's one way to get Portland's attention: Offer Deng and Charlotte's future No. 1 pick. The Bulls are counting on that Bobcats' pick (acquired for Thomas, ironically), to pay off big, because it's unprotected in 2016.

If Charlotte improves during the next two years, though, that pick could end up in the teens. So cashing it in for a 27-year-old all-star has plenty of merit. Aldridge averaged 21.1 points and 9.1 rebounds last season, and could play next to Noah.
Aldridge's alleged unhappiness is slightly surprising. He's always been Portland's poster-boy for the future, someone who has led the Blazers through thick and thin. At the same time, with Damian Lillard now set to run the show, he may either not like the idea of playing second fiddle to someone so young or simply just want to join a contender.
I'm inclined to go with the latter, because if it's the Bulls he prefers to land with, it's not like Derrick Rose is a 10-year veteran.
That said, we're trained to doubt any and all reports, especially one as sudden and eye-popping as this. It could be a facade. Or, you know, maybe not.
Sam Amico of Fox Sports Ohio confirms McGraw's report, saying that the Blazers are willing to move Aldridge and are seeking two first rounders and players in return.
Said repeatedly Blazers won't move LaMarcus Aldridge. I was wrong. Told tonight they'd be willing, but want 2 first-rounders and player(s).

— Sam Amico (@SamAmicoFSO) June 27, 2013
Given what the Blazers are reportedly asking for, the Bulls aren't going to be able to make this happen. Packaging Luol Deng and their first-round pick may be enough to get the ball rolling, but it's just a start. And even that may be a stretch.
Portland is already in need of a big man to pair with Aldridge. If the Blazers trade him, they are most certainly going to want a power forward and/or center in return. Though they could take to the draft to supplement the second big they crave, they can't be expected to deplete their front line for another wing. Especially when they already have two talented perimeter guys in Wesley Matthews and Nicolas Batum.
Of course, if the Blazers were looking to run small, Deng could serve as the perfect stretch 4. He can defend the free-throw line extended, yet is also physical enough to body-up on the block as well…when he's healthy.
That's another thing the Blazers would have to consider—Deng's healthy. He's not the most durable of wings and they'd be giving up an awful lot to take a chance on someone they don't exactly need. Not to mention his contract comes off the books after next season, so he could easily spurn the Blazers (unless he signed an extension as part of the trade). Dealing Aldridge away for an essential rental (and picks) just doesn't make sense. Unless the Bulls suddenly become inclined to deal Joakim Noah, this isn't going to happen.
A team to watch leading up to the NBA draft and beyond, in my opinion, are the Cleveland Cavaliers. They've been pining for Aldridge for quite some time and have the necessary assets to pull off a deal.
Any deal built around the No. 1 and No. 19 picks is sure to catch Portland's attention. If they were to include Anderson Varejao, that might even get it done. Cleveland could also try to package Tristan Thompson and Tyler Zeller together, as opposed to Varejao. I'm not so sure that gets the Blazers excited, though. Portland already has one interior project in Meyers Leonard, and it's somewhat difficult to believe it would want to take in two more.
Still, that No. 1 pick–even in a draft like this—is bound to peak the Blazers' interest. Nerlens Noel, at full strength, would look pretty good next to Lillard.
Don't expect Aldridge to be dealt before the draft, though. The logistics of any deal probably won't be constructed that quickly, complicating matters for a team like the Cavaliers. Don't count out a deal from going down at some point either, because if Aldridge is truly unhappy, his departure is something that will be continuously revisited.
Which makes this a situation to monitor with both eyes for the remainder of the offseason.
Dan Favale is a firm believer in the three-pointer as well as the notion that defense doesn't always win championships. His musings can be found at Bleacherreport.com in addition to TheHoopDoctors.com. Follow @danfavale on Twitter for his latest posts and all things NBA.