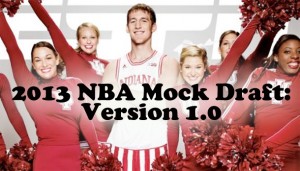 Now that the 2012-2013 NCAA season is officially underway and we've gotten an initial look at next year's crop of potential NBA Lottery picks, it's time to formulate our first Mock Draft. (For many more 2013 NBA Mock Drafts from around the web, check out THD's database here)
This year's field, through the first month of the season, has been dominated by some outstanding play from a number of players all still vying for the #1 pick like Indiana's Cody Zeller, Kentucky's Nerlens Noel, UCLA's Shabazz Muhammad, and North Carolina's James Michael-McAdoo.
As such, these Mock Draft rankings are based on potential with this year's Draft order based on current team records from the NBA regular season and outstanding trades, without taking into consideration for team needs as of yet. These are only my choices and not the consensus picks of all of The Hoop Doctors writers, with that said here is my 2013 Mock Draft:Version 1.0.
Draft Order
College Team
Player
Position
Physical

1.

Was


Indiana
Cody Zeller

C
6'11 240lbs Sophomore

The "Big Handsome" made a wise decision returning to Indiana for his sophomore season as he's in the mix for the top overall pick in 2013 as the Hoosiers make a run at the National Title. Zeller's rebounding numbers are the only concern as the athletic big man is a true competitor and is as fundamentally sound as any big man in the nation.

2.

Cle


Kentucky
Nerlens Noel

C
6'11 230lbs Freshman
Following in the large footsteps of last year's #1 pick from Kentucky Anthony Davis, Noel is a game-changing shot-blocker and defensive presence in the painted area. While his offensive game is still a work in progress, Noel has been impressive rebounding and protecting the rim as well as being an above average passer for a big man.

3.

NO


UCLA
Shabazz Muhammad

SF
6'6 230lbs Freshman
After finally being declared eligible to play, Muhammed has appeared a bit out of shape despite averaging 20ppg over his last 3 games. He has a scary upside many liken to Kobe Bryant as he was a prolific, unstoppable offensive force on the HS level. He will only get better as the season goes on.

4.

Det

North Carolina
James Michael-McAdoo

PF
6'9 240lbs Sophomore
The former highly touted HS player is finally getting his chance to play major minutes this season with above average results. He started like a house on fire but has struggled as of late against bigger defenders. Although he has prototypical forward size for the next level, there's a real concern over which position he will play going forward as he's too slow to guard the perimeter and not strong enough against low post bigs. Definate Top 10 talent with potential.

5.

Cha


Kansas
Ben McLemore
SG
6'5 195lbs Freshman
As one of the fastest risers in this year's crop, the redshirt freshman has emerged as Kansas' go-to-guy on offense. He's shown improvement taking the ball to the basket but remains an elite catch-and-shoot player in the mold of Ray Allen. He could be this year's version of Brad Beal and sneak into the Top 5 picks.

6.

OKC


UNLV
Anthony Bennett
SF/PF
6'7 240lbs Freshman
The fabulous freshman has made a seamless transition from dominating the HS ranks to being an NCAA POY candidate, helping to keep the Runnin Rebels among the Top 25 teams in the nation. He reminds many of former Rebel Larry Johnson as an undersized power forward that went on to have a good NBA career before the injuries. Bennett has been a beast on the boards as well as scoring from almost anywhere on the court.

7.

Sac


Georgetown
Otto Porter
SF
6'8 215lbs Sophomore
A tremendous athlete known as a stout defender, Porter has improved his offensive game to make him a potential Lottery pick next June. Although still a bit thin, he is a high energy sparkplug in the mold of Michael Kidd-Gilchrist at Kentucky last season.

8.

Pho


Maryland

Alex Len

C
7'1 230lbs Sophomore
Once the Ukrainian born big man finally served his 10 game suspension last season, he showed tons of potential during his freshman season. But now in his sophomore campaign, the legit 7 footer has become a focal point for the Terps. He is a superb athlete that already averages a double-double despite needing to add some bulk. Many compare him to Toronto Raptors rookie Jonas Valanciunas.

9.

Phi


Kentucky
Alex Poythress
SF
6'8 240lbs Freshman
Although he has been widely inconsistent in the early parts of his freshman season, Poythress has both the size and tools to be a very good NBA player someday. He's super athletic and is a tremendous above the rim finisher but is a bit of a tweener in that he lacks a definitive position, either SF or PF. He compares favorably to former Top 5 pick Derrick Williams.

10.

LAL


Baylor
Isaiah Austin
C
7'0 225lbs Freshman
The hype surrounding Baylor freshman Austin is real. He's the nephew of former NBA vet Ike Austin and wears the eye goggles to match. His amazing 7'4 wingspan makes him an elite rim protector but is still raw on the offensive end. Considering he is still growing and already a legit 7 foot plus at 18 years old, many are intrigued at just how huge Austin could wind up when paired with his skill set. Needs to add bulk.

11.

Por


Syracuse
Michael Carter-Williams

PG
6'6 185lbs Sophomore
After sitting virtually his entire freshman season behind upperclassmen Scoop Jardine and Brandon Triche, Carter-Williams has burst onto the collegiate scene and into NBA Lottery conversation as the nation's leading assist man. He's a rare combination of speed, skill, and size that we haven't seen since Anfernee Hardaway atthe point guard position.

12.

Orl


Kentucky
Archie Goodwin

SG/PG
6'4 200lbs Freshman
Possessing perhaps the most athleticism of any player in this year's Draft, Goodwin reminds many of Thunder superstar Russell Westbrook. Goodwin is more of a combo guard and hasn't yet put all of his talents together as he has frustrated Coach Calipari at times with his inconsistencies this season. With that being said, how many players can score 20 points in a game as easy as Goodwin?

13.

Dal


Michigan
Trey Burke
PG
6'0 190lbs Sophomore
After flirting with the NBA Draft after his freshman season, Burke made the right choice to return to Ann Arbor to team with SG Tim Hardaway Jr in an attempt to win a National Title. Although still a bit slight of built, many are beginning to compare Trey with NBA All Star Chris Paul as the total package from the PG position.

14.

Utah


Duke
Mason Plumlee

C
7'0 240lbs Senior
We all were told for 3 seasons that the uber athletic 7 footer was going to take that next step towards becoming an elite level big man on the collegiate level. In his senior campaign, Plumlee has finally become that player as one of the leading candidates for NCAA POY. He seems much more harnessed as an offensive player in addition to grabbing 10+ rebounds, and 2 blocks per contest. There's no doubting Plumlee is key to how far Duke goes this season.

15.

Atl


North Texas

Tony Mitchell

PF
6'8 240lbs Sophomore
Although the sophomore big man's stock has been dropping lately, he has all of the tools to be a good NBA player. Tony reminds many of former #2 pick Derrick Williams as an athletic tweener forward lacking a true position at the next level. He posted stellar numbers as a freshman last season but his stats have slipped in the early going this season. Some also site lack of quality competition as another question mark.

16.

Bos


France
Rudy Gobert

C
7'1 230lbs International
Perhaps this year's most intriguing international prospect, Gobert has an unreal wingspan(reportedly 7'9), matched with some great mobility for a player his size. At only 20 years of age, Gobert's potential is through the roof as a defensive stopper initially but shows progress offensively within the painted area. Although he needs to add bulk, some NBA GM's are enamored with his Manute Bol-like shot-blocking ability at such a young age.

17.

BK


Lehigh
CJ McCollum

SG
6'3 190lbs Senior
The nation caught a small glimpse of just how good the undersized 2 guard can be as he almost single-handedly helped his tiny Lehigh Mountain Hawks upset Duke in the NCAA Tournament. McCollum is one of the nation's best scorers and rebounds well for his position. He may be this year's Damian Lillard but he must improve his ball-handling to play PG at the next level.

18.

Min


OK State

Marcus Smart
PG
6'4 225lbs Freshman
The highlight reel combo guard is a freshman in name only as he already has the physique and game of a seasoned collegiate upperclassmen. While other more highly touted freshman have struggled, Smart has been arguably one of the nation's best players period, making many experts' POY lists. He's a poor man's Lebron James, scoring, rebounding, handing out assists, and even playing above average defense from the PG position.

19.

Ind


Creighton
Doug McDermott

PF
6'8 225lbs Junior
While many have already proclaimed McDermott this year's version of Jimmer Fredette, albeit a few inches taller, one thing's for sure that he can definitely fill up the scoreboard. Once a HS teammate of former UNC standout Harrison Barnes, Doug has thrived on mid-major competition as a collegian. Taking his team on a deep NCAA Tourney run against elite teams would do wonders for his stock.

20.

Den


Ohio State
DeShaun Thomas

SF/PF
6'7 230lbs Junior
With Jared Sullinger now off playing in the NBA, Thomas has emerged as the Buckeyes' best player. He's a monster scoring the basketball and rebounds well for a SF. He's a bit of a tweaner and is only average defensively but he's a good enough scorer to warrant a 1st Round selection as a 6th man.

21.

Mil


Michigan

Glenn Robinson III
SF
6'7 210lbs Freshman
While he may not be as good of a prospect as his father Glenn "Big Dog" Robinson before him, Michigan's fab freshman is already the team's 3rd best player and has all of the skills to be an NBA player. Robinson is a highlight reel player that plays above the rim that needs more seasoning but in a weak draft class, Robinson has potential as a SF scorer at the next level.

22.

Chi


Kentucky
Willie Cauley-Stein
C
7'0 245lbs Freshman
It's a proven fact that in concurrent seasons, Coach Cal has sent upwards of 5-6 players each year NBA bound. That bodes well for Cauley-Stein, who may not have as high of a ceiling as fellow Kentucky big man Nerlens Noel, but is a hard-working, blue collar type of center that compares well to the Hornets' Robin Lopez.

23.

Atl


Kansas
Jeff Withey
C
7'0 235lbs Senior
Jeff is arguably the nation's best shot-blocker, capable of controlling a game by his defense alone. He has made strides in his game on the offensive end, learning from past Kansas draftees like Thomas Robinson, the Morris twins, and Cole Aldrich. On the downside, Withey may have already hit his peak as far as potential.

24.

Utah


NC State

CJ Leslie
SF/PF
6'9 200lbs Junior
Leslie has been on the NBA's radar since his freshman season with the Wolfpack. Possessing through the roof athleticism, the former HS teammate of John Wall has refined his game from just an elite leaper to above average rebounder and capable scorer in pick-and-roll situations. Leslie remains rather thin by NBA standards but has gotten by on raw talent in college.

25.

SA


Florida
Patric Young
PF/C
6'9 250lbs Junior
Once compared to Dwight Howard as an elite HS player and future NBA stud, Young's development has been slow at Florida. He is a chiseled, physical specimen with unreal strength but is still rather raw offensively. Many also thought he would blossom into a better rebounder considering his physical tools but is undoubtedly an NBA caliber athlete.

26.

Cle


Baylor

Pierre Jackson

PG
5'10 185lbs Senior
In a rather weak PG class, Jackson ranks as one of the best floor generals in the country. He's this year's Kemba Walker, possessing lightning quick end-to-end speed, ankle-breaking handles, and above the rim hops. Defensively, many are concerned about his lack of overall size defending the NBA's bigger guards.

27.

Min


Colorado

Andre Roberson

SF
6'7 210lbs Junior

Not many outside fans East of the Mississippi know much about Roberson, once of the nation's best all around players. He's very similar to Denver's Andre Iguodala as a do-it-all forward and elite defender. He's still rather thin by NBA standards but has elite level athleticism that belongs at the next level.

28.

NY


South Dakota St

Nate Wolters

PG
6'4 195lbs Senior
Considering the success of taking lesser known talent from small schools like Damian Lillard and Norris Cole is recent drafts, NBA GM's are all over Wolters, one of the nation's best scorers. But playing against lesser competition, is he the next Steve Nash or Luke Ridnour?

29.

LAC


Michigan
Tim Hardaway Jr

SG
6'6 190lbs Junior
As the son of former NBA standout and Miami Heat guard Tim Hardaway Sr, elite caliber talent has transferred from father to son. While dad was a game changing floor general, Jr can score the rock as well as any player in the nation from the wing position. He has unlimited 3 point range and can score from anywhere on the floor. More of a scorer than great shooter, the Wolverines will go as far as Tim can take them.

30.

OKC


Croatia
Dario Saric

SF/PF
6'10 220lbs International
After dominating any and all competition in the European U-18 Championships this Summer, Saric is an intriguing International prospect. Although he has the size and low post moves to play in the paint, he possesses above average ball-handling and passing skills that translate to all 5 positions on the floor. Turning only 19 during the 2013 calendar year, many will view Saric as the "next" Dirk Nowitzki because of his advanced offensive skill at such a young age.
Allen Moll has been a lifelong NBA and NCAA College Basketball fan who watches and studies games religiously, and coaches youth basketball in his native Lehigh Valley region of Pennsylvania. Allen has also provided content to Bleacherreport.com, Upperdeckblog.com, Cleveland.com, CSN Philly.com, Buckets Magazine, in addition to being a tenured NBA and NCAA columnist for TheHoopDoctors.com.