August 3, 2011 – Kevin Burke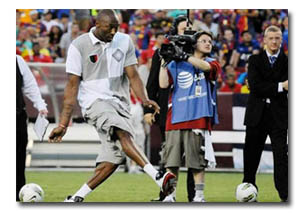 It's no secret that Kobe Bryant spent part of his childhood in Europe. While over there, one of the sports that caught his attention (aside from basketball, of course) was soccer. Hard not to pay attention to soccer while living in Europe, I guess. Apparently, he still has some skills on the pitch though.
This past weekend, Kobe was in Washington, D.C. for some public relations obligations, one of which was at the Manchester United vs. Barcelona soccer match where at one point, he was out there displaying his familiarity with the soccer ball. During the NFL's lockout, we saw Chad Ochocinco try his hand at soccer as a way to keep busy. However, that was primarily Chad being Chad. Will Kobe try to play soccer during a lockout? No. Or at least I hope not. But take a look at how comfortable Kobe looks with the soccer ball.
If you're looking for your everyday, predictable basketball talk, then you've come to the wrong place, because Kevin Burke of The Kevin Burke Project brings provocative, thought provoking content about basketball as only he can. Kevin also hosts The Hoop Doctors weekly podcast show, which you can subscribe to for free on iTunes. Follow Kevin on Twitter and Facebook