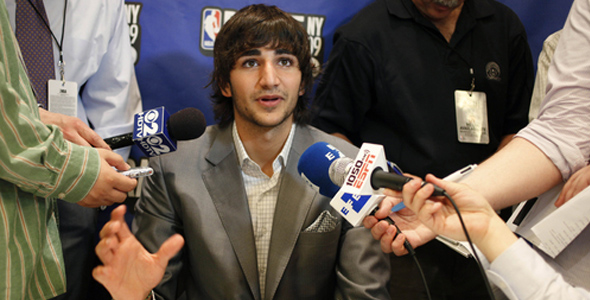 June 20, 2011 – Kevin Burke
Winning the NBA's draft lottery and securing the number one overall pick isn't an easy feat. Perennial lottery teams are disappointed yearly when the ping pong balls fail to bounce their way. One such team is the Minnesota Timberwolves. In fourteen chances, the T'Wolves have never nabbed the top pick. But back in 2009, their 12th trip to the lottery, they ended up with two lottery picks (numbers 5 and 6), and four total in the first round (numbers 17 and 28 as well). That's a good problem to have. With their first pick that year, Minnesota took the Pistol Pete-looking, Spanish mystery man, Ricky Rubio.
Ever since June of 2009 when Rubio was drafted, it has been anyone's guess what he would become in the Association. The better question was when would he make that trek across the pond and actually suit up for the team that thought enough of him to select him fifth overall? Rubio initially stalled because  he stood to lose about $6.6M if he were to buyout his contract with his Spanish team at the time, DKV Joventut. Minnesota tried to soften that financial blow, but under league rules, they could only contribute $500,000. However, to most NBA fans it seemed as if Rubio was avoiding the NBA at all cost, as he doesn't actually have to play in the NBA if he doesn't want to. Last week he stated, "After thinking about it a lot, the time has arrived." Almost as if he wasn't sure he would ever make that leap of faith. So with the recent news that he will finally suit of for Minnesota next year after playing in Spain for the past two seasons since being drafted, he inadvertently brings along an immense amount of expectations with him in his journey here.
Have we ever seen guys from Europe get drafted and never play in the League? Sure. But none with the hype that Rubio has. His smooth name alone says "I'm the nicest man on the planet". And you know what? He better be. He better "ooh" and "aah" us from the opening tip and not a moment later. However, I'm not going to hold my breath. Not right away at least. In his last two seasons in Spain, Rubio has posted averages of 5.9 points and 4.4 assists in 21.6 minutes per contest. Now, I realize that scoring across the board is less in the league he played in than it is in the NBA, and the half-court is where games are won rather than the fast-break, but those numbers should still be somewhat indicative. If they aren't, then the fact that he lost his starting job last season should be.
But those numbers don't seem to bother Timberwolves' General Manger, David Kahn. "A lot of attention is paid to his numbers without really an understanding of how different their game is and their style of play," Kahn said, "Especially with the Barcelona team, which plays a very half-court-oriented game that frankly isn't very suitable for his style." 
Aside from seemingly holding his team and Minnesota fans hostage for the last 24 months, Rubio also has this hefty amount of pressure on him because of what else happened during the 2009 NBA draft. With the sixth pick, the T'Wolves chose another Point Guard, Syracuse's Jonny Flynn. Not stopping at two, Minnesota also chose an additional PG at 17: North Carolina's Ty Lawson. Ty was traded to Denver, Rubio went back to Spain, which left Flynn. Due to a hip injury, Flynn only played in 53 games last year and now word has it that Minnesota is feverishly shopping him in order to make room for boy wonder, Rubio. Couple that with the fact that Stephen Curry, Brandon Jennings, Jrue Holiday, Jeff Teague, Eric Maynor, Darren Collison and Toney Douglas were all taken after Rubio in the draft that year. With the exception of Maynor and Douglas (who have both proven to be extremely serviceable NBA PGs) the rest of those guys have become everyday starters at the point position for their respective clubs. Translation: Rubio better not disappoint.
But in fairness to the Spaniard, he's only 20 years old, and those two years after being drafted when he was 18 can be viewed as him having played two years of college ball before turning pro. But there's one problem with that: he's been a professional since the age of 14. Last week, after his announcement, Rubio said "I like the NBA game as a spectator. It is very attractive and more open."  To me, that means he feels that he's ready to run the break for Minny. While he has exceptional court vision and is truly a uniquely gifted passer, he has average foot speed which may be exploited on the break. He also plays below the rim and isn't super athletic. If you've been paying attention to the NBA recently, you'll notice that PGs are probably the best athletes in the League by position.
Whether it was his fault or not, Rubio now has a ton of pressure and hype surrounding him because of his delayed NBA arrival. Somehow, it has gotten to the point where I personally am anticipating his NBA debut as much as I was that of LeBron James and Yao Ming; the two most hyped first-timers of the past decade in my opinion. It's unfair to have such high expectations on someone who has never played organized ball in this country, but that is the situation we have with pretty Ricky. For his sake, I hope he comes out and tears it up.
If you're looking for your everyday, predictable basketball talk, then you've come to the wrong place, because Kevin Burke of The Kevin Burke Project brings provocative, thought provoking content about basketball as only he can. Kevin also hosts The Hoop Doctors weekly podcast show, which you can subscribe to for free on iTunes. Follow Kevin on Twitter and Facebook