February 29, 2011 – Allen Moll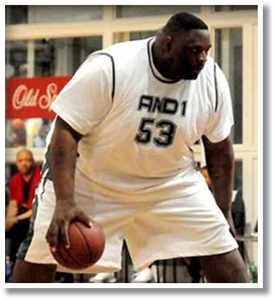 The basketball world has lost a good one. World renowned streetball artist Troy "Escalade" Jackson has passed away at the all too young age of 35, due to complications from heart disease. While in L.A. for NBA All Star weekend, the younger brother of former NBA legend and current ESPN analyst Mark Jackson reportedly passed away in his sleep in his hotel room.
The 6'10 Jackson was an amazing athlete even though his weight sometimes hovered near the 500 lb mark. He ironically grew up in the shadows of his older, yet smaller brother Mark and was at times his biggest cheerleader and biggest fan from their humble beginnings on Long Island, to Mark's outstanding career with St. John's, and thereafter with the Knicks, Pacers, Clippers, Raptors, and Jazz.
After getting his basketball jones from his brother and after serving as a NY Knicks ball boy as an 8 year old, Troy starred for Hills East HS in Long Island before honing his skills at some of New York's most legendary outside courts like The Cage on W 4th Street in Manhattan and Rucker Park in Harlem. His outstanding play caught the eye of small college coach Bill Hughley, who persuaded Troy to enroll at Wallace Community College in rural Alabama.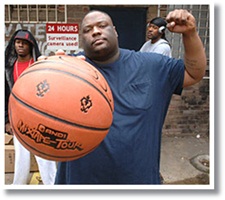 Despite battling issues with weight, Jackson earned numerous All Region JUCO honors as a sophomore which he parlayed into a full ride to the University of Louisville. While the school got him down to 375 lbs by the time he got on campus, Jackson averaged only 3 ppg and 2 rebounds in limited minutes against future NBA players like Tim Duncan and Danny Fortson. After his college career was over, he took his skills to play for the Harlem Globetrotters before finding his true calling….as an elite level street-baller in 2002.
Jackson was one of the original members of the And 1 Streetball Tour and was instrumental as a ever present crowd and fan favorite in helping bring to Tour to a world-wide audience on ESPN and even the cover of Sports Illustrated. He was amazingly agile for his size showing innate ability as a ball-handler, great dexterity around the rim, and penchant for highlight reel plays. Jackson was given his nickname of "Escalade" after dunking on an opponent to ferociously that he threw his defender to the ground, prompting those in attendance to liken him to the rather large sport utility vehicle. He also went on to star with other lesser known streetball tours like BallUp and can undoubtedly be considered a street-ball legend.
Of the court, Troy was a steadfast worker for the prevention and the spread of STD's. On top of being a world class athlete, Troy Jackson was an even better person as a role model for up-and-coming young ballers and fans alike. TheHoopDoctors.com are big fans of Escalade and our thoughts and prayers go out to his family. Troy left us way too young.
Check out some highlights of Escalade with And 1:
Allen Moll has been a lifelong NBA and NCAA College Basketball fan who watches and studies games religiously, and coaches youth basketball in his native Lehigh Valley region of Pennsylvania.  Allen also provides content to Bleacherreport.com, Upperdeckblog.com, in addition to being a tenured NBA and NCAA columnist for TheHoopDoctors.com.