February 28, 2011 – Kevin Burke
What a week for a Knicks fan, huh? It was an even bigger week for a Knicks hater. Last week's acquisition of Carmelo and Chauncey provided hope for the faithful fans of the orange and blue, but also supplied an endless amount of ammo to those who believe Amar'e and 'Melo hold the ball too much for this to work in a Mike D'Antoni system.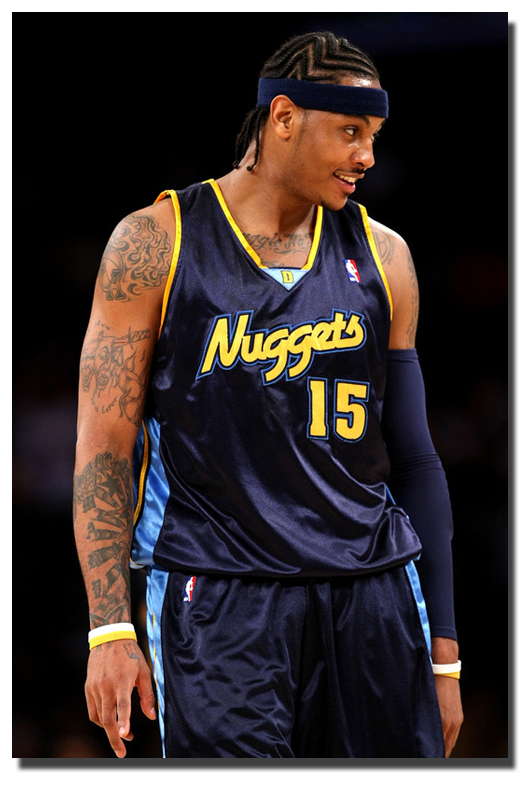 It was key for them to get their first win as a new unit. That came when they defeated the Bucks 114 – 108 after Carmelo received an ovation that almost ripped the roof off of The World's Most Famous Arena.
Then last Friday, what I feared actually happened. They lost on the road to the hapless Cavs, the league's worst team. I kept trying to find excuses such as "It's not like that was Game 7 of the Finals" and "The Lakers just lost to them too" and "They haven't even really practiced together yet." Those really are just excuses, but the real reason they lost is actually just another excuse too to be honest. The Knicks have a tendency to play down to the competition because personnel-wise, the Cavs aren't nearly as talented as the Knicks. By the time they woke up, it was too late.
That loss to the Cavs was bad and embarrassing. Above all, what it did was allowed the nonbelievers to continue to doubt the move. Amar'e had 31 points in that game and Carmelo had 27 so it was thought that perhaps they were fighting for shots. Just the opposite because you want your two star players to score at that level. It's just that they surrendered 115 points as a unit to a team who just traded away their best player, Mo Williams.
That led to one of the most anticipated regular season games of the year when the Knicks traveled to South Beach. Before the game, the ESPN crew, which consisted of Bruce Bowen, Jon Barry and Michael Wilbon, all predicted that the Heat would win behind an outstanding game by Dwyane Wade. I don't put much stock into the fact that they were all wrong on both accounts because nobody is an expert at this, but those three guys are definitely in the know regarding the NBA and they counted the Knicks out. Perhaps the loss to the Cavs led them to feel this way. Who knows?
Before the game, Jon Barry said that he expected LeBron to be focused and not that animated. I knew that wouldn't be the case because LeBron was in a joking, jovial mood during shoot around when the Heat made their visit to Cleveland back in December and it doesn't get more hostile than that. Therefore, we should all realize that's how he is before games. This game was no different as he was taking trick shots in the layup line. Right before tip-off when guys slap 5 with one another, LeBron even stopped to give 'Melo a hug and whisper something in his ear. It actually looked like Carmelo meant business and wished that LeBron didn't do that because it took away some of the intensity.
The Knicks got off to a slow start in that game but ended the half on a 16 – 0 run capped by a fall away 3-point bank by Bill Walker as the buzzer sounded. Naturally, that was much to the delight of Spike Lee who was sitting courtside in his usually Landry Fields jersey/dress.
The second half was back and forth and the game came down to the final minutes which we all wanted. Carmelo headlined the traded, deservedly so, but for some reason, people were acting as if Chauncey was a throw-in. His savvy is a joy to watch. The 3 that he hit in Wade's face late in the game, which for all intents and purposes sealed the game, is why his is Mr. Big Shot. And let's not forget about his steal either where led the fast break and dropped it off to Shawne Williams who chose not to dunk the ball and subsequently missed the layup.
While Chauncey's play down the stretch was instrumental, so was Amare's block on LeBron's layup in the final minute. Not bad for a guy who supposedly doesn't play D. Also, Melo's defense on LeBron in the final quarter was key too. He forced LeBron to take a tough 3. If last night was any indication, these guys certainly can play defense in order to make an impact.
Because of the Kendrick Perkins trade, the East is wide open. The Knicks are 2 – 2 against the Heat, 2 – 0 against the Bulls and 0 – 2 against Boston (They lost both against the Cs by a combined 6 points). That's not a bad showing against the best teams in the East, and now their team is eve better. Just sayin'.
If you're looking for your everyday, predictable basketball talk, then go somewhere else, because Kevin Burke of The Kevin Burke Project brings provocative, thought provoking content about basketball as only he can. Kevin also hosts The Hoop Doctors weekly podcast show, which you can subscribe to for free on iTunes. Follow Kevin on Twitter and Facebook