March 01, 2011 – Joshua Sexton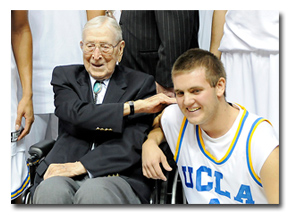 Saturday afternoon was a memorable day for UCLA basketball. The team squashed No. 10 ranked Arizona 71-49 for one of the team's best wins of the season. However, the most memorable moment of the day came well after the outcome of the game had been decided.
With 25 seconds left in the ballgame, Tyler Trapani put back an offensive rebound for an easy two points. Any other time, the basket would be rendered meaningless considering the score of the game. However, this was no ordinary garbage time basket. For starters, Trapani is the great-grandson of the late, legendary UCLA basketball coach John Wooden. In addition, the basket was the last one scored at UCLA's historic Pauley Pavilion. The arena will undergo renovations and re-open in the fall of 2012. For a can't miss read, check out Ramona Shelburne's article on Saturday's memorable moment. Check out the video of Trapani's basket after the jump.
Joshua Sexton is a lifelong basketball fanatic, who watches as many games as possible. In addition, He has played and coached the game at the high school level. He has recently started writing about the game of basketball.