March 30, 2011 – Kevin Burke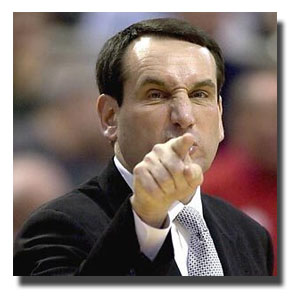 While the aftermath of Jalen Rose's comments about Duke in ESPN's "The Fab Five" film were continuing to cause controversy and ill feelings, I was secretly wondering to myself why we haven't heard from Mike Krzyzewski on the matter. While I can only assume that he did not respond because he was a tad busy with that little NCAA tournament thing, he has finally broken his silence and has addressed Rose's claims.
On "The Waddle & Silvy Show" on ESPN 1000 in Chicago yesterday, Coach K was as asked to respond to Jalen stating that as a teenager, he felt as if " [Duke] only recruited black players that were Uncle Toms." Begrudgingly, Coach K responded:
"Obviously, that was a poor choice of words and very insulting to everyone here at Duke but especially, not just African-American players, but any African-American students. When you judge within a race, you start judging, like you put categories as to who you are. I think that's just the wrong thing to do."
In the documentary, Jalen also said "schools like Duke didn't recruit players like me." Coach K also responded as to why none of the Fab Five ended up at Duke.
"We were very successful against them and, to be quite frank with you, we recruited Chris Webber. I didn't recruit Jalen Rose because we had Grant Hill and I'm happy with that. We didn't look at the other, Juwan Howard [because] we knew he wasn't going to come to Duke. The other two kids we didn't think were the caliber that could play as well as Thomas Hill and Brian Davis and Billy McCaffery."
I really wish Krzyzewski would've expounded on why he was so sure that Juwan Howard would not have come to Duke. Personally, that's what I would've been interested in learning. But then again, those interviewing him (one of which was former Blue Devil, Jay Williams) didn't ask him to explain unfortunately, so we'll never know. I do find it interesting, however, that Coach K basically said that Jimmy King and Ray Jackson weren't good enough  to play at Duke. Coach K also went on to talk about the legacy that the Fab Five left at Michigan:
"They had a heck of a run, but they didn't leave anything, they didn't establish anything there. The guys that I had established something that Jay Williams continued to do 10 years later — the standards of what it meant to be a Duke basketball player."
Krzyzewski is a rather mild mannered guy and I didn't fully expect him to rip into Jalen, but for him to say "they didn't establish anything there" is a pretty big statement from a guy like Coach K who seems as uncontroversial as they come. I think that's a very powerful statement by him. "The Fab Five" documentary resonated throughout the sports world for about a week after it aired so much so that Grant Hill even responded. Therefore, I was somewhat surprised and disappointed that those interviewing him didn't delve a bit deeper. It was barely talked about in the 16 minute interview. But at least we got something because I didn't think we'd ever hear from Krzyzewski on the matter.
If you're looking for your everyday, predictable basketball talk, then go somewhere else, because Kevin Burke of The Kevin Burke Project brings provocative, thought provoking content about basketball as only he can. Kevin also hosts The Hoop Doctors weekly podcast show, which you can subscribe to for free on iTunes. Follow Kevin on Twitter and Facebook