February 10, 2011 – Allen Moll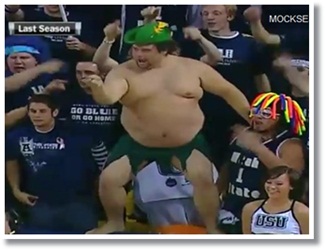 The Utah State Aggies are arguably the hottest team in the country as they are riding the nation's 3rd longest home winning streak(28 games), have previously won 17 straight to begin the season, and are holding  a commanding 5 game lead in the Western Athletic Conference standings. Their superior play this season has led to an outstanding 22-2 overall record, earning them the #21 ranking in this week's Top 25 polls.
The WAC leaders hold the distinction of being one of only 3 teams in the nation, joining Kansas and Gonzaga, to win 23 or more games in each of the past 10 seasons. This year they are led by outstanding senior PF Taj Wesley, who leads the team in scoring(14.3 ppg), rebounding(7.8), and FG percentage(.606 FG%). Come March, teams should beware of the Aggies, as they could be one of this season's Cinderellas as one of the nation's very best 3 point shooting squads.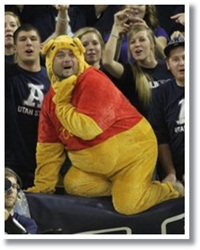 The Aggies haven't gotten a lot of love this season when it comes to TV time and as a result not many are privy to their outgoing student section, which I'll argue is one of the most boisterous and supportive in the nation. And don't get me started about their annoyingly addictive chanting.
Their most famous fan has to be the always entertaining "Wild Bill" Sproat, who has been featured on ESPN for his often wild and obnoxious costumes, or lack there-of, when attempting to distract opposing shooters at the free throw line. "Bill" is a rather, shall we say, ample fellow, who has dressed up as either a mermaid, Peter Pan, hula dancer, or as a shirtless cupid in an attempt to throw opposing players off their game.
Recently in a game against Nevada, Bill decided to channel a character from Disney's "Beauty and the Beast", as he somehow managed to find a 4X sized teapot costume and led the student section in a wonderful rendition of "I'm a little teapot, short and stout……." Funny stuff.
Anyways, you can check out Utah State in live action on ESPN on Saturday, February 19th as part of their Bracketbusters coverage, in a contest against WCC stand-out St. Mary's.  The game showcasing two of the nation's better under-the-radar good teams will undoubtedly will have some ramifications in seedings come March Madness.
Check out Wild Bill as a Teapot vs Nevada:
Allen Moll has been a lifelong NBA and NCAA College Basketball fan who watches and studies games religiously, and coaches youth basketball in his native Lehigh Valley region of Pennsylvania.  Allen also provides content to Bleacherreport.com, Upperdeckblog.com, in addition to being a tenured NBA and NCAA columnist for TheHoopDoctors.com.