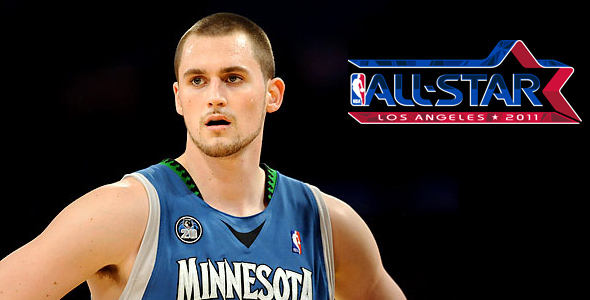 December 20, 2010 – Alex Rosencutter
With the first All-Star ballot results released Thursday, I am truly disappointed. People always talk about the corruption of the BCS rankings and how messed up it is. Why not talk about the corruption of the voting process for the NBA All-Star game? The players who are truly deserving of being voted in get snubbed and left out. My anger with the process boiled over in 2009 when Tracy McGrady, who was recovering from microfracture knee surgery at the time, was voted in without even playing a game that season. Then in 2010 when Allen Iverson was voted in as a starter. By the way, we are not talking about the old AI, but the AI that was waived by Memphis and didn't even have a NBA contract while still gaining votes.
So, I was excited that maybe this year would be different. But, Santa Claus just had to ruin my hopes and wishes once again. This is by far the worst ballot I have ever seen. First off, there was no Paul Millsap even involved with this ballot. Are you kidding me? Then, Kevin Love received the third least amount of votes in the Western Conference. ARE YOU SERIOUS FANS!!?? Are you meaning to tell me that Caron Butler, Luis Scola, Lamar Odom, Blake Griffin, Tim Duncan, Dirk Nowitzki, Carmelo Anthony, Pau Gasol, and Kevin Durant have outplayed him. I can make a case for Pau and KD but not the rest. Sure Love is stuck in a terrible organization, but the man is playing out of his mind averaging 20 and 15. Not to mention 21 double-doubles to go along with four 20-20 games and even a 31 point, 31 rebound outburst against the Knicks.
Next issue, why are Yao Ming and Andrew Bynum even involved in the first place and why is Shaq receiving more votes than Joakim Noah? Yao's career may be over….again, and Bynum has played one game this season. Joakim saved the Bulls from a horrid start without Boozer. Without Joakim they would have been murdered on the inside. Plus, Joakim is averaging a double-double while outscoring and out-rebounding Shaq, who has only played in a total of 16 games this season. Now I know that Joakim will now be out for a while, but atleast give the man the benefit of the doubt.
Sure, fans should get to choose who plays. They want to see the big names, and that is all they care about. But, who is to say that the fans voting know anything about basketball in the first place. There needs to be a line drawn at some place, some time. There are holes in the current system that need to be patched up. Why not make it a rule that injured players or those who are not currently playing cannot play? If AI and McGrady got those votes last year, then I would like to bring back Magic Johnson and vote for him. Then, include the players, coaches, and owners of the league to properly choose those who are truly deserving. It is obvious that the decision making can no longer be left to the fans and media panels. There needs to be a change.
Fight the power Kevin Love.
Alex Rosencutter is an NCAA basketball player and kinesiology major at Clarke University in Dubuque, Iowa. Originally from Kenosha, Wisconsin, this hoops addict and die hard Miami Heat fan, who is obsessed with old school hoops, has a fever for basketball and the only prescription is more basketball.