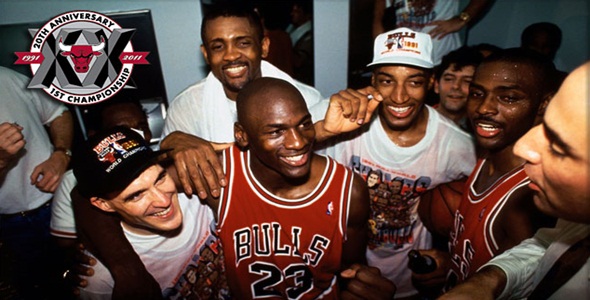 October 15, 2010 – Allen Moll
Who could forget the image of the legendary Michael Jordan sobbing uncontrollably on the locker room floor during post-game celebrations after hoisting the NBA Championship trophy for the first of 6 times, in earning the organization's first ever World Title? Surely that image is etched in all of our memory banks, but just in case you missed it, the Chicago Bulls will help you remember since they will be honoring MJ and Company's first title in a number of ways throughout the entire '10-'11 season.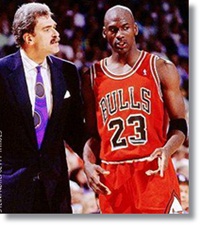 Although the '95-'96 Chicago Bulls led by Jordan, Pippen, and Rodman blew through the league, setting the NBA record for wins(72), on the way to their 4th World Title, the inaugural '91 Title team has to weigh heavy on Bulls fans hearts as it marked not only the organization's first chip, but was a personal milestone for Jordan since although he dominated the league statistically for 6 seasons, had yet to reach the promised land. The '91 is special for so many reasons, one of which was finishing with a 61-21 regular season mark, for finally getting past the 2 time defending champion Detroit Pistons, and defeating the legendary LA Lakers 4-1 in the NBA Finals.
During the season, all players will be sporting a special 20th Anniversary Logo honoring the '91 season on the upper right hand corner of uniforms and on the left sleeve of warm-up apparel. The logo will also be highly visible in advertisements, billboards, on Bulls.com, and on the arena scoreboard.
All of the hoopla and celebration reaches a pinnacle during halftime of a March 12th game against the Utah Jazz where a number of former players like MJ, Scottie Pippen, and Stacey King, among others are scheduled to attend and participate in a recognition ceremony celebrating the '91 Bulls.
Here's a statement from Bulls legend and recent Hall of Fame inductee Scottie Pippen:
"Of all my six Championships, the first one is the one I treasure the most," said Scottie Pippen. "I look forward to getting together with all my former teammates on March 12 to relive those great memories."
I don't know about you, but this is the type of event celebrating past legendary squads that should be done more often. Maybe it would help us get the bad taste of Lebron's "The Decision" out of our mouths.
Be sure tocheck out our multi-part Scottie Pippen Rewind Series, chronicaling Scottie's great career and celebrating his recent induction into the Naismith Basketball Hall of Fame.
Allen Moll has been a lifelong NBA and NCAA College Basketball fan who watches and studies games religiously, and coaches youth basketball in his native Lehigh Valley region of Pennsylvania.   Allen also provides content to Bleacherreport.com, Upperdeckblog.com, in addition to being a tenured NBA and NCAA columnist for TheHoopDoctors.com.