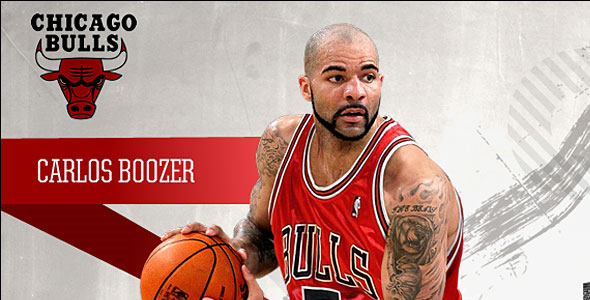 September 2, 2010 – Kevin Burke
Six NBA Championships in eight years. That's what made the Chicago Bulls the team of the 90s. They were the team everyone else wanted to beat and they were the envy of the league. Many feel that if Michael Jordan didn't take a hiatus to play a mediocre outfield for the Birmingham Barons, they may have won eight NBA Championships in eight years. We'll never know (personally I think the Rockets were too tough down low for them), but their run is forever a part of NBA greatness. Championships and dynasties are usually won from the inside out, with the frontcourt leading the way. The Bulls, however, were the exception to the rule.
Michael Jordan, Scottie Pippen, Ron Harper, B.J. Armstrong, John Paxson, Toni Kokuc. These are the guys who mainly propelled the Bulls to their historic run. One thing that they all had in common is that they are all perimeter oriented. As rich as the Bulls tradition is, they have never really had a legit, dominant, low post presence for an extended period of time, that can actually score. Until now. Without even playing a game yet for the Windy City club, Carlos Boozer may be the best low-post offensive player in Bulls history.
The Bulls had guys like Horace Grant, Dennis Rodman, Bill Wennington, Bill Cartwright and Luc Longley (to name a few) who played valuable roles on the block during their championship years, but I don't think anyone (including them) would say that they were legit offensive presences. It's amazing that they were still able to enjoy the success that they did despite that.
With career averages of 17.2 points and 10.2 rebounds, while hovering around 20 and 10 for the better part of his career, Boozer has been pretty consistent and has established himself as one of the marquee big men in the Association over his eight year career.
A few guys in Bulls history give Boozer a run. Orlando Woolridge played for the Bulls from 1981 – 1986 and had season averages of 7.3, 16.5, 19.3, 22.9 and 20.7 points per game respectively. However, the 6'9" Woolridge never grabbed six boards a game on average for any one season.  Woolridge was good, but wasn't really a back to the basket low post player either.  There was also 7-footer Artis Gilmore, from 1976 – 1981, who averaged 22.9 points and 13.1 boards in his best year in Chicago. But the Bulls weren't a good team when they had Artis so it didn't amount to much. There were also other serviceable big guys in their history, but you get the point.
Boozer is just what the modern-day Bulls needed. The 2000s was the decade of the perimeter player for Chicago. What has held them back for years from getting over the hump is size. There was a point where Ben Wallace was their best low post player. Ben couldn't score his way out of a paper bag on his best day. The Bulls had guys like Ben Gordon, Kirk Heinrich, Luol Deng, Andres Nocioni and Larry Hughes, to name a few. Guys who, largely, do the same thing, all on the same roster. Then came Joakim Noah and Tyrus Thomas to add a "presence down low." Come on now.
Aside from the Miami Heat assembling an Eastern Conference All-Star team as their roster, the Bulls had the best summer so far in my opinion, and that's simply because they finally added size, in the name of Carlos Boozer. Something that has eluded them forever.
If you're looking for your everyday, predictable basketball talk, then go somewhere else, because Kevin Burke of The Kevin Burke Project brings provocative, thought provoking content about basketball as only he can. Kevin also hosts The Hoop Doctors weekly podcast show, which you can subscribe to for free on iTunes.