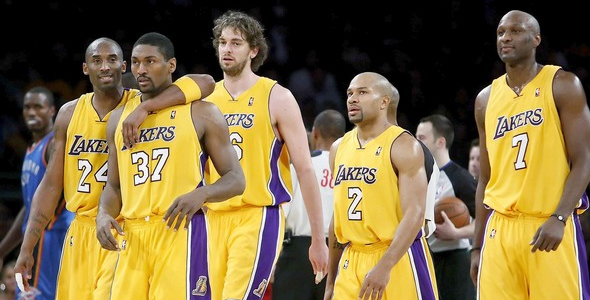 July 28, 2010 – Kevin Burke
The entire basketball world has gotten so caught up in the LeHeat extravaganza, that we almost lost sight of reality. Now that the dust has settled some, let's think rationally. Let's not crown the Miami Heat just yet. The 2-time defending champion Los Angeles Lakers have just reloaded in a major way to remind the rest of the NBA who the best team still is. The Lakers just signed Theo Ratliff and Matt Barnes to join their already very talented team. The old adage is that defense wins championships. Apparently, the Lakers believe in that too.
Theo's presence gives the Lakers another big body to contest shots down low. With the oft injured Andrew Bynum, Ratliff certainly doesn't hurt. Bynum is set to undergo surgery tomorrow and is supposed to be at full strength to start the season, but come on, does anyone think Bynum will have a full, healthy season? I'm sure Bynum doesn't think Bynum will have a full healthy season. Not that Ratliff has been that much more durable as of late either, but size down low is size down low. Ratliff's 2.7 blocks per 36 minutes last year was good enough for 13th in the league.
Once a very feared shotblocker around the league, Ratliff has very quietly reached 37 years old and is a shell of his former self. However, shotblockers may lose some agility, but they don't lose the most important factor in their craft: timing. He will still clog up the lane for the opposition and play a key role off the bench for the LakeShow. At only 1-year and $1.35M, it's definitely worth rolling the dice for the Lakers. Theo won't be asked to play heavy minutes. Last year, with stints with the Spurs and Bobcats, he averaged 16.5 minutes, 3 points and 3 boards. But again, that big presence down low is more valuable than anything that is measurable.
Matt Barnes should also prove to pay dividends for the Lakers as well. Surprisingly 30 years old already, this is the journeyman's fourth stop in Cali, having played for the Clippers, Kings, Warriors and now the Lakers. I like what Barnes brings to the table. He's a feisty, versatile defender who can score if needed (but let's just hope it's not needed that often).  In 81 games for Orlando last year, Matt averaged just under 9 points in about 26 minutes worth of work.
Matt's physical style of defense has gotten under the skin of a few guys around the league. Namely, Kobe Bryant. This won't be the first time Kobe Bryant has to be the teammate of a guy he's had an altercation with. He had to do the same thing with Ron Artest last year. I don't see that being a problem at all, though.
The Cavs were also taking a look at Barnes and offered him more money than the Lakers, but he decided to opt for winning rather than cash. Barnes will make $1.8M this year and a player option for similar money the following year.
If nothing else, these moves send a clear message to the rest of league, and maybe to South Beach as well.
If you're looking for your everyday, predictable basketball talk, then go somewhere else, because Kevin Burke of The Kevin Burke Project brings provocative, thought provoking content about basketball as only he can. Kevin also hosts The Hoop Doctors weekly podcast show, which you can subscribe too for free on iTunes.