April 9, 2010 – Kevin Burke
The college basketball season concluded the other night with an instant classic between Duke and Butler. As that game ended, another has begun. It's the annual game of "Swimming with No Lifeguard on Duty" and it stars a handful of underclassmen ballers.
The game is simple, but it can be a very dangerous game, so the contestants would be best advised to tread lightly. To follow along, you must picture the NBA as a vast ocean. There is 1 simple rule to follow (or not follow): if you're ready to leave college for the NBA, then dive right in. If you're not, then don't. Each year, many underclassmen are in fact ready to swim and go ahead and enter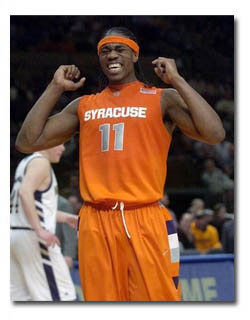 their name, as well as hire an agent. Those guys are excellent swimmers, and in most cases, go off to enjoy promising pro careers. Unfortunately, you do however, have some guys who not only can't swim, but they choose to do so with no lifeguard on duty.
The NBA waters are deep and frigid. Many guys have drowned, suffered hypothermia, or have been attacked by sharks in certain situations. This is mainly because they received intentionally misguided advice from someone twice, or maybe even three times their age. This year's game is already in full swing with some early contestants; many of which have every right to be in the water. On the other hand, of course, there are some who have no business being there. The good news for these young men is that they have until May 8 to realize that they're about to make the biggest mistake of their life, and go back to school. If they're on the fence, the best thing to do is stick your toe in the water (declare without hiring an agent to see what you're hearing) and if the water is too cold (not hearing what you'd like to hear), pull it out. I love to see when that happens because it shows that perhaps someone isn't lying to them (Dee Brown comes to mind – although injury aided his decision to come back). But for some reason, you have guys who blindly cannonball right in without first seeing how cold it is. That's when hypothermia sets in. Let's just hope that some of them come to this realization before the tide rolls in.
In no particular order, here are some guys that come to mind who were not successful at the game of "Swimming with No Lifeguard on Duty." This doesn't mean that they weren't drafted. It just means that if they were drafted, they only hung around long enough to get a cup of coffee in the league. (And I understand that everyone's situation is different and some guys have kids to support. I get that.):
Omar Cook (St. John's), Victor Page (Georgetown), Eric Devendorf (Syracuse – graduated but had another year of eligibility left), Paul Harris (Syracuse), Kenny Satterfield (Cincinnati), Joe Forte (North Carolina), William Avery (Duke)
If you're looking for your everyday, predictable basketball talk, then go somewhere else, because Kevin Burke of The Kevin Burke Project brings provocative, thought provoking content about basketball as only he can. Kevin also hosts The Hoop Doctors weekly podcast show, which you can subscribe too for free on iTunes.