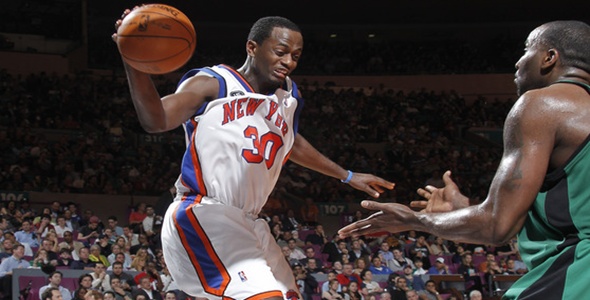 April 9, 2010 – Allen Moll
There have been a number of players who were toiling in the NBA D-League who are now paying dividends for their big league clubs. There have been 35 call-ups this season with the most notable probably being Sundiata Gaines, who hit a game winning shot while playing on a 10 day contract for the Utah Jazz. While most teams were sifting through the D-League for a new king of the court, they should have been looking for a Barron. Earl Barron, that is.
Not many things have gone right for the New York Knickerbockers when it comes to personnel moves recently. Especially when the oft injured Eddy Curry once again missed all but 7 games this season due to another leg injury while being a pariah for the club financially, making more than $10.5 million this year. Curry, with another year remaining on his bloated 6 year contract signed back in '05, has probably played his last game in a Knicks uniform since the organization will almost surely buy out the disappointing 9 year veteran who showed so much potential as a former McDonald's All American in high school and with his first few years with the Bulls.
With a possible free agent bonanza awaiting them this off-season, the Knicks have been sorting through their roster to see who may fit into their future plans after this season is over. One such player making the most of his opportunities is former NBA, D-League, and European league journeyman, Earl Barron. Barron notched perhaps the best game of his career with a 17 point and 18 rebound effort to help his squad beat the Boston Celtics in only his 2nd game with NY. The 7 foot, 245 lb center, preceded his double-double with a nice 11 point, 7 board night in his Knicks debut against the LA Clippers.
Barron has been a world traveler to say the least since playing 4 years at the University of Memphis from '99-'03. In '03, he played oversees with a team in Turkey after not being drafted by an NBA club. He then thought he had latched on with the Orlando Magic during the '04 pre-season but was waived before the season began. In '05, Barron found a gig playing for the Red Bull Thunder in the Phillipines and toiled in the D-League until the Miami Heat picked up his contract for the '06-'08 seasons. With the Heat he won an NBA Title in '06 and had his best professional season in '08 with averages of 7 points and 4 rebounds. Then after playing out his contract with Miami, he again signed a 1 year, $2 million deal to play in Italy. He then was listed on the New Orleans Hornets roster in early '09 until he was waived in October before signing to play for the LA D-Fenders of the D-League. After being traded to the Iowa Energy(D-League) mid-season, Barron drew the attention of Knicks coach Mike D'Antoni after Barron made the D-League All Star Team before joining the Knicks last week.
Talk about taking the long road to the NBA. Barron undoubtedly will give supreme effort for the rest of the season which is something they aren't used to with Curry. In an interesting stat, Barron has totaled 28 points so far this season while Curry has scored 27, in only two games. With an athletic 7 foot frame, Barron is excellent in pick-and-roll situations with his ability to nail 18 foot jumpers. Even though it's a small body of work(2 games), Barron is averaging 13.5 ppg and 12.5 rebs on the season, and is sure to get playing time over the final 2 weeks of the season. With Curry all but gone and a number of high priced free agents coming aboard next season, Barron could be a cost effective, odds on favorite to make the NY Knicks roster in 2011.
Check out some highlights of Earl Barron's 17 pt, 18 board night vs Boston:
Allen Moll is an avid NBA and College Basketball fan who watches and studies games religiously and coaches youth basketball in his native Lehigh Valley region of Pennsylvania.  Allen is a regular columnist for thehoopdoctors.com, Bleacherreport.com, UpperDeckblog.com, and his own site, Hoops Haven.