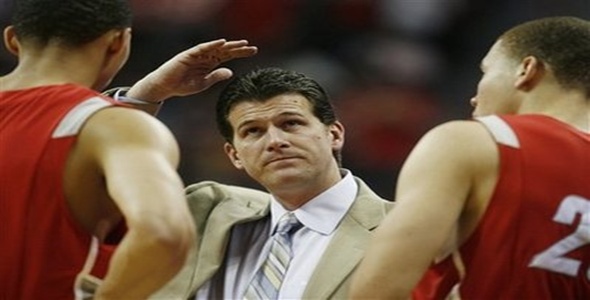 March 3, 2010 – Allen Moll
While everyone was focused on the Syracuse/Villanova slugfest Saturday night on ESPN, another clash of two Top 15 teams was going on in the Mountain West Conference. New Mexico, who is coached by former Indiana stand-out Steve Alford, won a spirited contest against conference rival Brigham Young, 83-81, giving the Lobos at least a share of the MVW Conference crown for the second consecutive year.
Even though the game was a tightly contested affair that came down to the final seconds as New Mexico's Darington Hobson blocked a game tying shot by BYU, the game will probably be remembered for what happened after the game. Lobos coach Alford, known for his fiery demeanor, was caught on video in a testy exchange of obscenities with BYU senior Jonathan Tavernari, who refused to shake hands with a Lobos player. The two exchanged unpleasantries during the post-game handshakes.
The whole altercation began with just under a minute remaining when Tavernari got elbowed by an opposing player attempting to call a time-out, with a brief altercation following, in essance because no fouls were called. Apparently the bad blood then spilled over to the post-game handshakes as coach Alford can be seen whispering something to Tavernari and the BYU player responding back,"What are you going to do about it?" Even a Lobos coach jumps in on the verbal jab-fest by calling Tavernari a punk bi**h. Alford supposedly was heard saying to the BYU player that he has had a good career and now it's over, then called him an obscenity.
Whether by his conscience or by his coach's urging, Tavernari apparently later had a change of heart as he went into the New Mexico locker room after the game to apologize personally to Alford. Tavernari also offered to apologize to the entire Lobos team but Alford told him the incident was over and that the BYU senior was one of his favorite player and that they both let their emotions get the best of themselves.
The issue wasn't over for MVC officials since they publically reprimanded Alford on Tuesday for the incident. The conference ruled that Alford violated the league's sportsmanship rule and warranted a public reprimand for his provocative language towards an opposing student athlete. I guess that's why coaches are usually given a 10 minute break after games before speaking to the media to regain their senses after intense competition.
Maybe Alford channeled his emotions from his former coach at Indiana, Bob Knight, who is known for fiery exchanges and soundbites. Alford was arguably one of Knight's favorite players at Indiana from '83-'87. At the time, he became Indiana's All Time leading scorer with 2,438 points, a mark which was later eclipsed by Calbert Chaney. In 1987, he was a First Team All American and helped the Hoosiers win the National Championship over Syracuse. He later was a member of the 1984 US Gold Medal winning USA Basketball squad alongside some of the game's greatest players like Michael Jordan, Chris Mullen, and Patrick Ewing. Although he was regarded as one of the greatest players in NCAA history, he only lasted 4 years in the NBA before entering the coaching ranks in '91. He is in his third year as head coach at New Mexico.
Check out the video of Alford and Tavernari's verbal jabfest:
Allen Moll is an avid NBA and College Basketball fan who watches and studies games religiously and coaches youth basketball in his native Lehigh Valley region of Pennsylvania.  Allen is a regular columnist for thehoopdoctors.com, Bleacherreport.com, UpperDeckblog.com, and his own site, Hoops Haven.