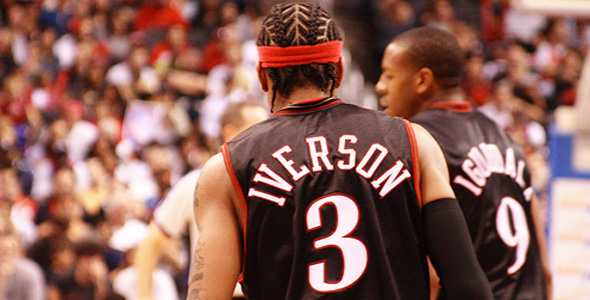 March 3, 2010 – Kevin Burke
Due to an undisclosed ailment of his daughter, Allen Iverson and the Philadelphia 76ers have decided that it is in the best interest of both parties that he does not return to the club this season. I have no problem with that. Family comes before work. But with this hierarchy of family first, I hope Mr. Iverson realizes that he has probably played his last game in the NBA. Therefore, I'd like to personally thank him for 12 and a half wonderful, memory-filled,  jaw-dropping years.
It pains me to say this but I don't see a conceivable way that Iverson is back in the league next year. How could he be? He's not willing to take a role off the bench (I'm in the minority here, but I can understand why he feels that way),  he barely was able to latch on with the 76ers again, and he has clearly lost a step. Maybe even 2. When the Knicks took a pass on him after his run with the Grizzlies, you knew it was not going to end up well for him, and it didn't. He retired out of frustration and quite frankly, he should have stayed retired. Him going back to Philly was a knock on his legendary place in history. The 6ers didn't really want him. If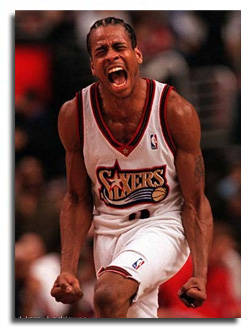 they did, they would've jumped all over him after he and Memphis parted company. But they didn't.  Philly took Iverson back for a 3 reasons. 1) They felt sorry for him. They didn't want his career to end simply because he couldn't find work. It was a sign of loyalty, which you rarely see these days. 2) They were 29thin attendance and knew that his return would put some rear ends in those seats, and  3) their starting PG, Louis Williams, was out 8 weeks with a broken jaw. A combination of those 3 was why he was back. Not because they legitimately wanted or needed him. This is not to mention his 1 year non guaranteed contract. Do you remember how it ended for him when he left Philly a few years ago? It wasn't exactly on the best terms. They removed his name plate from his locker and stopped showing his clips at home games during the starting lineups, before they even traded him. Not exactly a place I'd want to go back to.
Now that we've unfortunately seen the last of the most unique talent league has ever seen, how should he be remembered? Here's how I will remember him: A Rookie of the Year,  MVP, 11-time All-Star, 3-time scoring champ, among many others. But above all, I'll remember him for changing the face of the league more than anyone else ever has. MJ swooped in and made the baggier shorts and the bald head cool, but Iverson took it to a whole new level. From the tattoos, to the hair, to the headband, to the arm sleeve (which I'm still convinced is more of a fashion statement than a medical device), he has forever changed the look of the league. He didn't find it necessary to conform. He was always true to himself. But in fairness, that wasn't always necessarily a good thing because not everyone bought what he was selling and people initially scoffed at the NBA as a result. Despite that, his impact on the league has overwhelmingly been more positive than negative. I can't say enough good things about him. However, for all the good I mentioned about him, he is probably the most difficult player to play alongside of in history. In his prime, he simply could not coexist with another legitimate scorer.
Again, his good definitely outweighs the bad and it is with great sorrow I bid farewell to Mr. Iverson. If he is thinking about coming back next year, he should stop thinking. After what he went through last year, he sould realize that another circus like that would will pull him even further away from immortality.